Shop
Find stores with bento gear near you using the international Bento Store Locator (BSL) with Google Maps and user-generated store feedback. Nothing nearby? Check the list of online stores for bento gear or come back later as people add more stores to the BSL.
If you're not in the market for gear but would like to support Lunch in a Box, please tell your friends about this blog! Like us on Facebook, subscribe to Lunch in a Box by e-mail updates or via RSS feed, grab the blog button below, or make a Paypal donation.

When you shop at the stores below, starting here will support this blog at no increased cost to you.
Browse Biggie's lunch-packing picks at Amazon.com, and Amazon Japan will ship Japanese books internationally. See my post on Japanese auctions and overseas shipping services to get Amazon's bento gear.

Bento boxes at J-List



J-List is a peaceful island of Japanese pop culture for you


J-List has unusual Japanese bento gear, Japanese language study aids, and all kinds of odd products. International shipping available.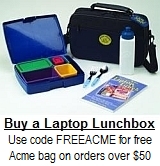 Check out their selection of lead-free lunch gear, lunch kits, lunchboxes, reusable bottles and the lead-free Laptop Lunchbox (they ship internationally). Their FAQ on health and safety issues is helpful in learning the latest about lead and plastic concerns. International shipping available.
Lovable Labels has all kinds of customized labels you can have printed with your child's name to keep track of lunch gear, clothing, shoes, etc.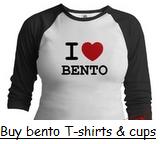 Buy bento-themed merchandise at the Lunch in a Box store on CafePress. International shipping available.

Additional Resources