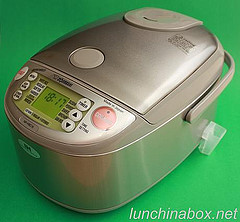 (Nov. 20 UPDATE: The rice cooker giveaway is now closed; see the announcement of the winners here.)
Need a new rice cooker but don't want to drop hundreds of dollars on a fancy one? I've got a Zojirushi NP-HBC10 5.5-cup rice cooker with Induction Heating (IH) and a Panasonic SR-NA10 5.5-cup rice cooker with fuzzy logic
to pass on to two lucky U.S. readers. To enter, leave one comment below with your favorite rice-related tip by midnight on Wednesday, November 19, 2008, and I'll choose two comments at random on November 20 using the random.org random number generator. The first pick will receive the Zojirushi ($350 value, the same one that Ajinomoto and Zojirushi recently gave away in their Lunchbox Photo Contest), the second will receive the Panasonic ($150 value). (Read on for full giveaway details.) Read the rest of this entry »
Last week I discovered that whatever I write while taking painkillers makes very little sense. I tried writing and rewriting posts while recovering from some medical stuff, only to find that Vicodin makes me stupid, dizzy and sleepy. Anyway, all is well with me again — sorry about the unintended break! It's time to get back to bento with mini bagel sandwiches, a compact way to pack a non-squishable sandwich in a bento box.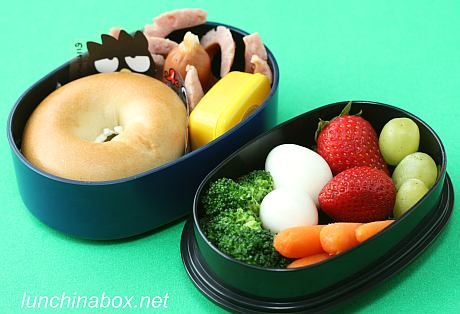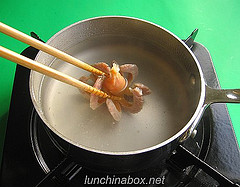 Contents of preschooler bento lunch: Mini bagel sandwich with cream cheese and spruce tip jelly from our trip to Alaska (reviewed below), an "octodog" (octopus-shaped hotdog, full tutorials here for boiling, and here for frying) with ketchup for dipping, boiled broccoli with vinaigrette, hard-boiled quail eggs, boiled carrots, strawberries, and grapes.
Morning prep time: 12 minutes, using already-boiled quail eggs from the fridge and the multi-boiling technique to cook multiple things at once. In the morning I made the bagel sandwich while the water quickly came to a boil in my electric kettle (see my earlier post on Kettle Races: Electric vs. stovetop). I poured the boiling water into a small saucepan and cooked the broccoli, carrots and octodog. (Read on for lunch details, a review of local Alaskan jellies, and additional mother/son lunches.)
Who do you pack lunches for? I've been writing about our family lunches for a while now, so you all know that I now pack bentos for my four-year-old to take to preschool, and I used to make them for myself and my husband sometimes. But enough about me, how about you?
Who do you pack lunches for on a regular basis? (Check all that apply.)
Self (61%, 1,013 Votes)
Spouse or romantic partner (27%, 451 Votes)
A child (27%, 451 Votes)
Self plus someone else (21%, 357 Votes)
An adult (16%, 269 Votes)
No one, I'm just reading about it (9%, 156 Votes)
A teenager (8%, 131 Votes)
Other family member (child, sibling, parent) (7%, 121 Votes)
Just someone else (3%, 49 Votes)
Friend (2%, 39 Votes)
Other (describe in comments) (1%, 15 Votes)
Total Voters: 1,665
 Loading ...
FURTHER READING: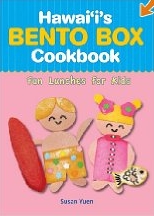 Bento lunch cookbooks can be challenging to put together. Should they focus more on standalone recipes or an arrangement of full lunches? Decorative food or speed? Bento lunch principles or practice? Japanese-language bento cookbooks are often highly visual, with color photos on each page that both stimulate and inspire the reader while informing them of how-to steps at a glance.
Up to now, I haven't seen books in English that capture the spirit of a Japanese cookbook for children's fun bento lunches, making Hawaii's Bento Box Cookbook: Fun Lunches for Kids the first example to date. (Read on for the full book review.)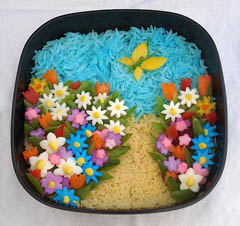 If you've ever spent time making cute food art for bento lunches, you may also be familiar with the sinking feeling of opening the lunch after it's been swung around in transit, only to find a jumble of food that doesn't resemble what you created. "But it looked so nice in the kitchen when I packed it!" you say. Short of gingerly carrying the lunch level like old nitroglycerin on the verge of exploding, how can you put together a decorative lunch that will survive a commute?
There's definitely technique in keeping decorations in place. I've come across anchoring tips in Japanese-language bento books, with suggestions that include using different condiments as edible glue. First, though, I decided to ask well-known oekaki (picture) bento food artist Amorette (Sakurako Kitsa) what she uses to keep her beautiful creations intact. Amorette recently ran a series of guest posts on decorative food art here on Lunch in a Box. Here's some of our IM chat, reposted here with Amorette's permission. Read the rest of this entry »