Bento shopping in San Francisco Japantown
It's been a long time since my last bento gear shopping update, so there's a lot to cover! Today I cover San Francisco Japantown, with a couple of new stores on the list. Highlights are the new Kinokuniya Stationery & Gift store with a variety of bento gear, the conveniently located (but partially hidden) Daiso dollar store, and the Sanrio store with a new shipment of heatable aluminum bento boxes.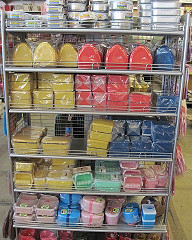 Full store info and shop addresses are at the bento gear shopping guide for the San Francisco Bay Area, and you can also find reader updates at the Bento Store Locator with Google Maps. Photos of shop inventory were taken and used with store permission (click on any of the small photos for a larger version). (Click to read the full post.)
* Daiso (NEW)
* Kinokuniya Stationery & Gifts (1st floor) (NEW)
* Kinokuniya Stationery & Gift (2nd floor)
* Daikoku by Shiki
* Ichiban Kan
* Moritaya
* Nijiya Market
* Sanko
* Sanrio (NEW)
* Soko Hardware
(Warning: Photo-heavy post ahead!)
* Daiso (Japantown branch)

First off, there's a small branch of Daiso in the same building as Ichiban Kan, on the bottom floor behind the staircase. Everything's $1.50 unless otherwise market, and they have a fair selection of bento gear (including boxes, matching bags and bento bands, silicone food cups, onigiri rice ball molds, kitchen gear, food picks and other accessories). The quality of their bento boxes isn't high, but prices are super-low, so I look at them as being semi-disposable boxes that I don't mind Bug losing or breaking at school.
Daiso also has a small snack section, with things like interesting non-oil dressings (especially shiso and goma sesame flavors), and flavored seaweed. It's much smaller than the large Daiso at Serramonte Mall in Daly City, and they don't accept credit cards yet. But if you're in the neighborhood to go to Ichiban Kan anyway, be sure to stop by and check out their inventory.
Here's about half of the store's bento boxes (the other half are shown in the photo above):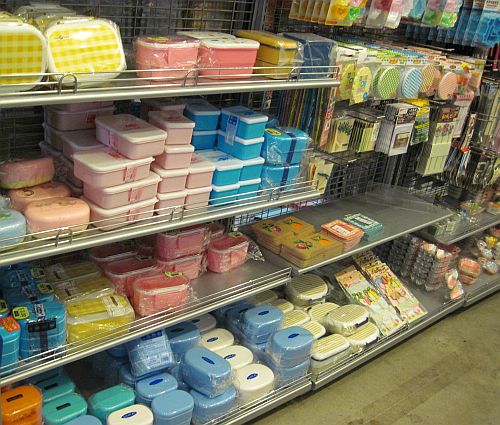 And their insulated bento bags and matching lunch cloths:
Daiso
22 Peace Plaza
Suite 400
San Francisco, CA 94115
* Kinokuniya Stationery & Gift (#2)

This store opened late November 2009 on the first floor of Japan Center Kinokuniya Bldg. (by Japan Video store, under the main Kinokuniya bookstore), an extension of Kinokuniya Stationery & Gift on the second floor. It has a sizable selection of cute bento boxes, nesting/stacking boxes, utensils in cases, onigiri rice ball cases, cute food containers, and bags. Prices are on the higher end, but they stock San-X brand boxes that you won't find at other stores. Definitely worth checking out.
Interesting trivia note: this is run by the same company as Kinokuniya Stationery on the second floor above it (see entry below), but these Kinokuniya gift stores aren't actually the same company as the famous Kinokuniya Bookstore. The Kinokuniya Stationery stores are both part of NBC Inc., the same company that is behind MaiDo Stationery & Gift. Evidently executives at the two companies are friends, so Kinokuniya Bookstore allowed NBC to use the Kinokuniya name in some of its U.S. stores.
Here's a look at about half of their bento gear: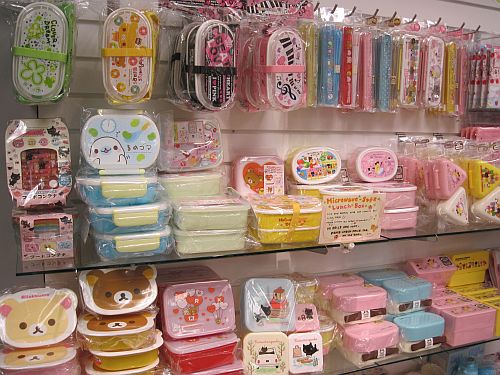 And additional bento boxes:
The store manager said that bento boxes sell better at their New York branch than the San Francisco one, so he thinks that bento lunches are more popular in New York. I suspect that people just don't know about this new SF store and their good selection of bento boxes, though.
Kinokuniya Stationery & Gift
1581 Webster Street
San Francisco, CA 94101
(415) 567-8901
* Kinokuniya Stationery & Gift (#1)

Located on the second floor of the Japan Center Kinokuniya Bldg., Kinokuniya Stationery & Gift is across from Kinokuniya Bookstore (not the same company). They have some unusual and cute bento boxes for children, including sandwich cases, nesting/stacking bento boxes, and snack boxes (see photo below). Prices are on the higher side, but quality is pretty good overall.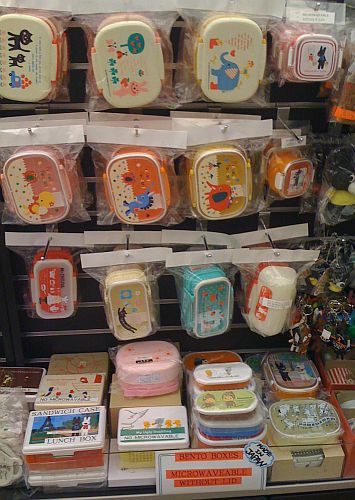 Kinokuniya Stationery & Gift
1581 Webster Street
Suite 218
San Francisco, CA 94101
(415) 567-8901
* Daikoku by Shiki
Daikoku by Shiki has a nice selection of more elegant, traditional-looking bento boxes by Hakoya. Prices are around $15-$20 per box, so they're not exactly cheap, but they're good quality. Their boxes are sized for adults, as opposed to the smaller Hakoya boxes at Ichiban Kan. Soko Hardware has some similar Hakoya boxes, but a smaller selection (see entry below). The SF Japantown website has a printable online coupon for Daikoku by Shiki here.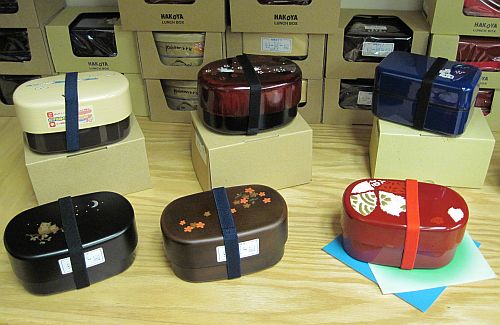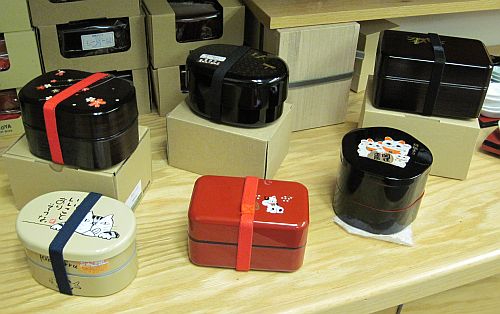 Shiki

Kintetsu Mall
1737 Post St, Ste 360
San Francisco, CA 94115
(415) 563-4550
* Ichiban Kan in SF Japantown
Oh Ichiban Kan, why oh why did you have to go and close your lovely online store? That place where people all over the U.S. could order bento boxes and accessories for $1-$1.50 a piece? We miss your online store! Store manager Rumi apologetically told me that they couldn't make it work with the amount of upkeep the website required given their constantly changing inventory (something that makes the retail stores so fun to visit regularly).
So it feels a little cruel to show Ichiban Kan's store inventory (their retail stores in the S.F. Bay Area remain open for business as usual), but here goes. Here's their wall of bento boxes, matching bags, bento bands, side dish boxes, and utensils: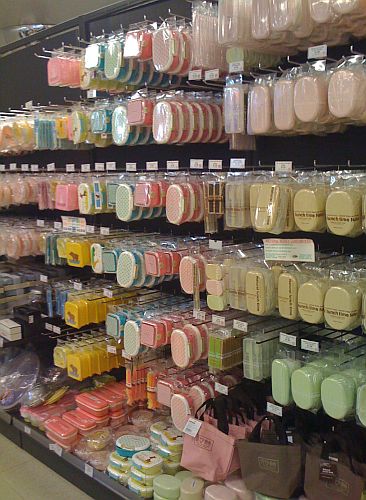 And small Hakoya-brand bento boxes, just US$6 each. Unlike the Hakoya boxes at Daikoku by Shiki, these are sized for children, with the yellow rectangular box sized at 380ml (150ml top tier, 230ml bottom tier), and the gingham checkered oval boxes measuring 415ml (180ml top tier, 235ml bottom tier). (These boxes are not microwave safe; see my care guide for bento gear.)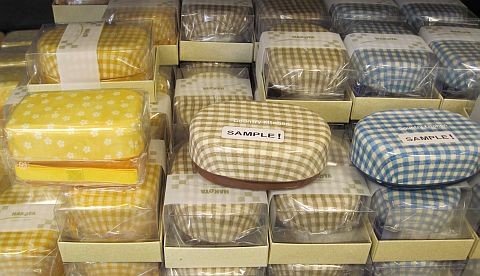 Ichiban Kan also has a line of cheaper, smaller boxes from Hakoya that appear quite sturdy, matching utensils, and fancier boxes with antibacterial silver ion coating (like this large bento box on J-List) for packed lunch food safety. If you find a Hakoya-brand box at Ichiban Kan, it'll likely be cheaper here than anywhere else in San Francisco. They also have a few silver-colored Don Don Lunch Boxes (Hakoya) for packing donburi lunches, priced at $19. Surprisingly, these are $1 more than nearby Sanko Cooking Supply is selling their new stock of Don Don Lunch Boxes, in a wider variety of colors (see entry below).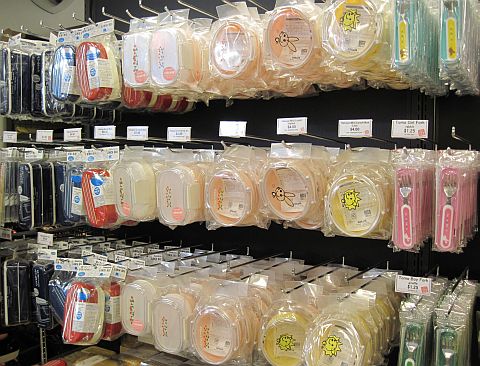 In a neighboring aisle is their wall of cheap bento accessories, which include egg molds (make boiled eggs in the shape of bunnies, cars, fish, bears, hearts, & stars), food picks, silicone lunch cups & baran dividers, sauce containers, etc. Make Daiso and Ichiban Kan your first stops in Japantown so that you don't kick yourself for spending too much money at other stores first, just to discover you could get things here cheaper.
Ichiban Kan
1625 Post St
Miyako Mall 22 Peace Plz, Ste 540
(between Buchanan St & Laguna St)
San Francisco, CA 94115
(415) 409-0472
www.ichibankanusa.com
* Moritaya
No photo updates here as they wouldn't allow pictures in the store. Moritaya has character-themed bento gear for the preschool set, with characters like Thomas the Tank Engine, Miffy, Cars, Gaspard & Lisa, Totoro, Ponyo, etc. The downside is that everything's seriously overpriced, with huge mark-ups on bento gear  (including boxes from Ichiban Kan that they resell). If you can't live without a particular anime character box but can't find it locally, you may have luck here (but you'll pay dearly for it).
Moritaya
1737 Post Street
(between Buchanan St & Webster St)
San Francisco, CA 94115
(415) 674-1345
* Nijiya Market
If you're looking for a plain, sturdy, non-cutesy bento box that won't embarrass the man in your life, stop by Nijiya supermarket and pick up one of their four Asvel-brand boxes (pictured below). Kamei (out on Clement St. in the Richmond) and Kukje Supermarket (Daly City) are the other good places to get these type of plain boxes at comparable prices. But if you're in Japantown anyway, Nijiya fills this niche. Your teenage son will thank you for not packing his lunch in a pink Hello Kitty bento box…

Nijiya Market
1737 Post St
(between Buchanan St & Webster St)
San Francisco, CA 94115
(415) 563-1901
www.nijiya.com
* Sanko Cooking Supplies

Sanko has a surprisingly good selection of unusual, better quality bento boxes and some interesting accessories, albeit at high prices. Most interesting was a new shipment of $18 donburi bento boxes in three colors (the Don Don Lunch Box by Hakoya, reviewed here), and a cute shaping mold for tamagoyaki (Japanese omelet) with three removable shaping plates (pricey but cute). The SF Japantown website has a printable online coupon for Sanko.
Some unusual bento accessories and Hakoya bento boxes with antibacterial silver ion coating. The egg molds and some of the red/blue Hakoya boxes are $4 cheaper at Ichiban Kan across the street.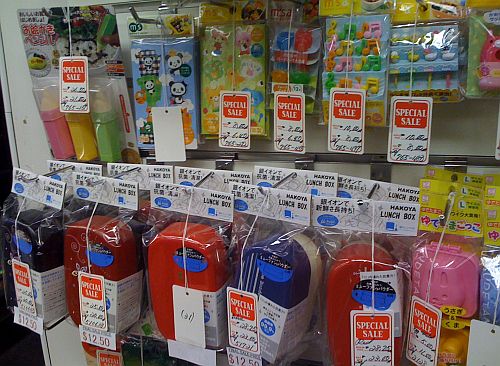 Sanko Cooking Supply
1758 Buchanan St
(between Post St & Sutter St)
San Francisco, CA 94115
(415) 922-8331
www.shop.sankosf.com
* Sanrio
The Sanrio store in the Japantown mall didn't use to stock much of anything interesting in the way of bento gear, but that's changed with their recent shipment of aluminum bento boxes that can be heated in the toaster oven. The drawback to these kind of boxes is that they're not watertight, but the unique twist is that you can actually cook dishes like a gratin right in them, and heat up the whole thing without using the microwave (I know there are some of you who avoid microwave ovens). See my earlier post on metal bento boxes.
Sanrio is the company behind such characters as Hello Kitty, Shinkansen, My Melody, Chococat, Cinnamoroll, The Runabouts, etc. Accordingly, they've got a selection of character-themed bento boxes, utensils, thermoses, food jars, and lunch bags at slightly high prices (licensing fees, anyone?). The SF Japantown website has a printable online coupon for Sanrio.
Sanrio
Kintetsu Mall
1737 Post Street #315
San Francisco, CA 94115
www.nakajimausa.com
* Soko Hardware
Soko tucks its bento box collection in an out-of-the-way corner on the top floor back behind the staircase, not downstairs with the kitchen stuff. Here you'll find good-quality Hakoya and Tatsumiya Shikki-brand boxes for adults and children, as well as picnic-sized juubako boxes for tabletop use. Prices are very reasonable for this quality; definitely check out Soko Hardware before buying the more elegant or traditional boxes elsewhere.
Downstairs you'll find fairly run-of-the-mill rice molds, sushi molds, cooking equipment and middle-of-the-road prices (not as cheap as Daiso or Ichiban Kan for the same molds, but not an outrageous markup either).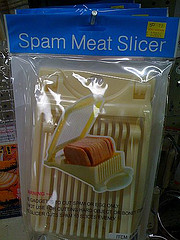 One unique niche Soko Hardware fills is with all of the fun gadgets for making spam musubi! In addition to spam musubi presses (both single and double-size versions), they even carry a spam meat slicer that evenly slices an entire can of spam at once — just like a hard-boiled egg slicer. It's an unnecessary gadget (got a sharp knife?), but fun nonetheless.
Soko Hardware
1698 Post Street
(between Buchanan St & Laguna St)
San Francisco, CA 94115
(415) 931-5510
FURTHER READING: