Bento gear on Menu for Hope 6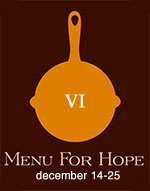 The holidays are a time for giving, and in the food blog world that's come to mean the Menu For Hope food blog annual fundraising campaign, now in its 6th year. Started by Pim of Chez Pim, Menu for Hope raises money for the United Nations World Food Programme, the world's largest food aid agency (it raised over US$250,000 over the last three years for the program!). Specifically, this year's donations will go to the WFP's Purchase for Progress (P4P), a new initiative that helps smallholder and low-income farmers supply food to WFP's global operations, improving farming practices and putting more cash into their pockets.
In Menu for Hope, food bloggers around the world offer a variety of food-related items for the online raffle. Every US$10 you donate earns you one "ticket" to bid on an item of your choice. At the end of the campaign, tickets are drawn and  results are announced on Chez Pim on Monday, January 18, 2010.
A full list of bid items is will be posted at Chez Pim, and the Western U.S. regional prizes will be shown at Gluten-Free Girl. A mere US$10 gives you a shot at some pretty cool food-related prizes! Check them all out and see what appeals to you.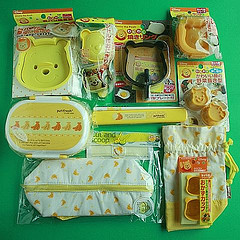 I'm happy to offer another bento kit for bidding this year, with products courtesy of Skater Company, Japan's largest manufacturer of bento boxes, and ZESPRI, the New Zealand kiwifruit company. I'll also give each of the winners a personal tour of San Francisco's Japantown if you're in town (details below).
What's included:
"Winnie the Pooh Goes Bananas" Bento Box Kit

and tour of San Francisco's Japantown, by Biggie (me).
Pack adorable lunches with unusual Winnie the Pooh food shaping tools and a banana-themed "Putifresh" bento set. The yellow bento set includes a watertight bento box, two matching bags, chopsticks, elastic bento belt and a Zespri "spife" (spoon/knife combo) for packing whole kiwifruit. The tools include a boiled egg shaper, sandwich cutter, onigiri rice ball shaper, vegetable cutter, pancake ring and silicone food cups, all shaped like Winnie the Pooh. The Pooh-themed tools are high quality, direct from the Skater Company in Japan. Make lunch as tasty as your own pot of honey! (prize code UW20)
(Read on for full details and instructions on how to enter.)
"Winnie the Pooh Goes Bananas" Bento Box Kit and personal tour of San Francisco's Japantown (prize code: UW20)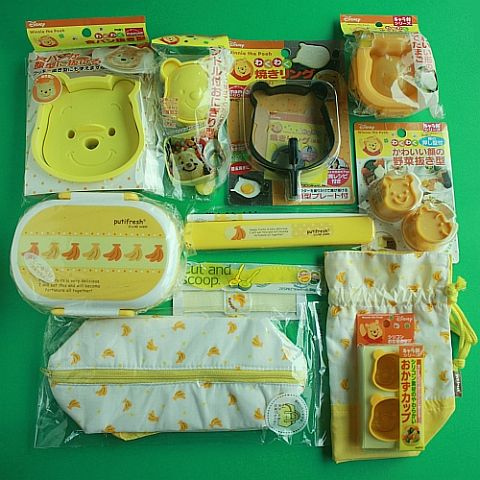 The Winnie the Pooh goods are all marked "For Sale in Japan Only", so are uncommon outside of Japan. The manufacturer's care instructions are noted below, but I often put these sorts of things in the dishwasher (no heated dry cycle) without adverse effects (see my guide on caring for your bento gear). The kit consists of the following: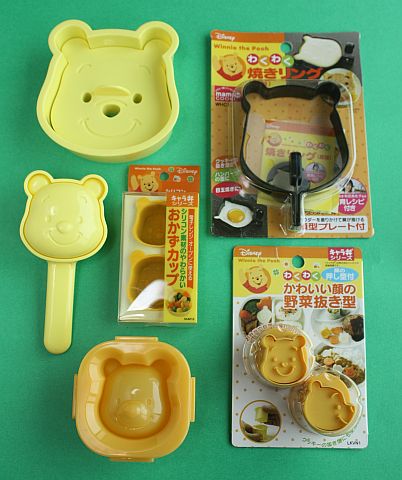 Winnie the Pooh pancake ring with separate plastic faceplate for making Pooh's face with cocoa or furikake. Ring can also be also be used for frying eggs. Oil inside of ring before use, hand washing recommended, not microwave or dishwasher safe.
Winnie the Pooh-shaped reusable silicone food cups for packing side dishes in a bento lunch. Microwave- and oven-safe.
Winnie the Pooh cutters and press that creates an imprint of Pooh's face on vegetables, cheese or small cookies.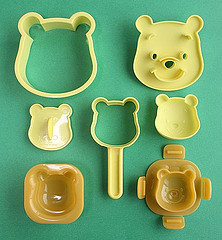 Winnie the Pooh sandwich cutter and press that creates an imprint of Pooh's face. Can also be used for cookies. Hand washing recommended, keep away from heat, not microwave or dishwasher safe.
Winnie the Pooh onigiri rice ball mold with handle and removable front and back. Scoop hot rice directly into the mold and use the pusher to compress. Saves your hands from hot rice burns, and improves food safety. Keep away from heat, not microwave or dishwasher safe.
Winnie the Pooh egg mold for making hard-boiled eggs shaped like Winnie the Pooh. See my egg molding tutorial for details.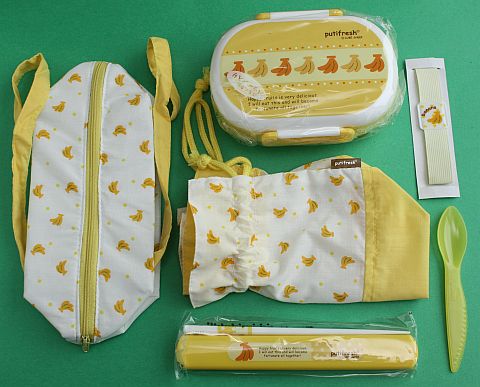 "Putifresh" yellow banana-patterned one-tier bento box with watertight lid with flaps. Total capacity of 480ml, so it's a good size for a child according to the bento box size guidelines. Microwave-safe except for the lid. Hand washing recommended, not dishwasher- or oven-safe.
Matching Putifresh cotton fabric lunch bag (kinchaku) with drawstring. The bento box fits nicely inside.
Matching Putifresh insulated lunch bag with cotton cover and handles. Clean with a damp cloth; washing in a washing machine not recommended.
Matching Putifresh chopsticks and carrying case. Dishwasher-safe with air drying (no super-hot dry cycles like in industrial dishwashers).
Matching Putifresh elastic bento band, for use with two-tier bento boxes (not included).
Yellow "spife" (spoon/knife) from Zespri, for use when packing a whole kiwifruit in a lunch. Use the gently serrated knife edge to cut the kiwi in half, then use the pointy spoon end to scoop out the fruit and eat. Dishwasher-safe.
If you live in or will be visiting San Francisco, I'll give you a personal bento tour of San Francisco's Japantown, visiting specialty stores for bento gear, food, and cookbooks that I wrote about in the SF Bay Area shopping guide for bento gear. Have your own Japanese speaker show you around and translate anything you have questions about!
I will ship internationally if the winner lives outside the U.S., and there's no expiration date on the tour in case the winner lives outside the Bay Area but will be visiting at some point in the future. The tour is transferable if the winner won't be traveling to San Francisco.
(Disclaimer: I have no commercial affiliations with Skater, but I worked with Zespri on a kiwifruit event this past year.)
Here's what you need to do for a chance at winning the bento prize:
Choose a bid item or bid items of your choice from our Menu for Hope main bid item list.
Go to the donation site at Firstgiving and make a donation.
Please specify which bid item you'd like in the 'Personal Message' section in the donation form when confirming your donation. You must write-in how many tickets per bid item, and please use the bid item code.  Each $10 you donate will give you one raffle ticket toward a bid item of your choice. For example, a donation of $50 can be 2 tickets for EU01 and 3 tickets for EU02 - 2xEU01, 3xEU02. The bid item code is

UW20

for the "Winnie the Pooh Goes Bananas" Bento Box Kit with Tour.
If your company matches your charity donation, please check the box and fill in the information so we could claim the corporate match.
Please check the box to allow us to see your email address so that we can contact you in case you win. Your email address will not be shared with anyone.
Check back on Chez Pim on Monday, January 18, 2010  for the results of the raffle.
FURTHER READING: