Poll: How many American bento-makers are men?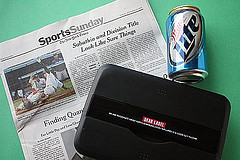 A Japanese radio station asked me to do an on-air interview about bento lunches in the United States, and they seem to think that there's a growing trend of American men who pack bentos. This may be because of a recent trend in Japan of "bento danshi", or men making bentos for themselves or their families, often as a way to cut food bills in rough economic times. (See the recent Guardian article and video on the subject, or a Japanese TV clip about bento men.)
Although I know of a few men who make bento lunches (Mr. T on the Lunch in a Box forum, A Man's Bento blog), my impression has been that the vast majority of U.S. bento-makers are women. If you're a bento-packer in the U.S., weigh in via the poll so we can either prove or debunk this theory!
Do you know of other men who pack bentos in the U.S.? Bento blogs or Flickr streams by men? Are you a man who packs bento lunches? Feel free to weigh in or share links in comments. The radio interview is slated to air in Tokyo late this week, and I'll provide a link to the podcast afterwards. UPDATE: The bento segment aired on J-Wave Friday morning Japan time, with a Japanese write-up in the Global Frontline section of the station's blog.
If you're a bento-maker in the U.S., are you male or female?
Female (82%, 874 Votes)
Male (18%, 196 Votes)
Total Voters: 1,070
 Loading ...
Poll voting closes at midnight Pacific on Wednesday, October 28, 2009.
FURTHER READING: