RIP Ichiban Kan online
My apologies to everyone for dropping off the face of the earth lately — it's been a weird time and I've been going through something of a crisis. (Arg.) Time to get back on the bento ball! Lots of updates today; with Ichiban Kan closing its online store and opening a new San Bruno retail location in the Tanforan Mall, a kiwifruit recipe contest that I'll be judging with a US$2,500 grand prize, a recent Lunch 2.0 round table blogger discussion I moderated, a new bento cookbook that's out, and more.
1. Ichiban Kan closes online store

First off, I'm sad to say that Ichiban Kan recently closed its online store, although its retail stores in the SF Bay Area remain open. They were a good US source of cheap bento gear (like US$1!), and I'm sad to see them go. Products seemed to fly off the shelves, so there's hope that they'll be back — check their blog for updates. Fingers crossed that they change their business model and reopen the online store, maybe at increased prices to remain viable. I mean, cheap is good and all, but not if it drives them out of business!
In any event, Ichiban Kan has opened a new retail store in the Tanforan Mall in San Bruno, CA, so if you're nearby you might want to check that out (1150 El Camino Real, San Bruno, CA 94066, tel: 650-244-9920). For additional sources, check out my list of online stores for bento gear, as well as the Bento Store Locator with Google Maps and reader feedback for retail sources near you. (Read on for details of a recipe contest with $2,500 prize, a Lunch 2.0 round table that I moderated, a new bento cookbook, and the upcoming BlogHer '09 panel on food blogging.)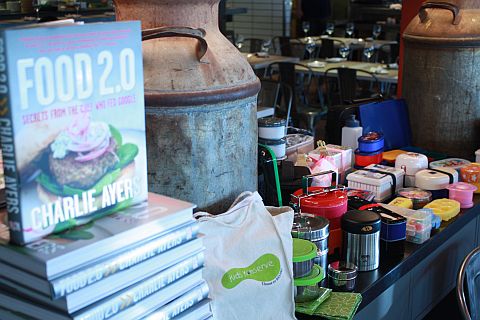 2. Lunch 2.0 Kiwifruit Recipe Contest & Round Table
In other news, I'm helping judge a Kiwi for Lunch blogger contest where US-based semifinalists are eligible for a US$2,500 prize. Submit an original recipe using kiwifruit by August 7, 2009 for a shot at the big prize! The other judges and I will be kid-testing the semifinalist recipes with our children — the ultimate truth-tellers.
This follows a Lunch 2.0 round table for a group of mommy bloggers that I moderated last month; we had a lively discussion with Charlie Ayers (author of cookbook Food 2.0, owner of Calafia Café and Market A-Go-Go in Palo Alto, and former Google chef) about packing lunch for our children. Amy Hemmert of Laptop Lunchbox fame came and showed off their new Bento 2.0 product line with bento-friendlier containers and with fun new bags (Bug is very partial to the alien-themed one). The Zespri kiwifruit folks are putting together a YouTube video with highlights from the session; I'll point that out once it's done. Here are a few pictures in the meantime:
Amy Hemmert & me:

Amy Hemmert & Charlie Ayers:

3. Bento Cookbook: 501 Bento Box Lunches

A new bento cookbook is out that's made up of contributions by folks from the online bento community, with a forward written by Amorette Dye (Sakurako Kitsa, who has contributed a series of decorative art bento posts here). 501 Bento Box Lunches has a series of cute bento ideas and simple recipes for children, with a plethora of color pictures. I'll be reviewing it more comprehensively later on. Congratulations to everyone who worked so hard to bring this about; I know it's been a long slog for you.
4. BlogHer '09 Food Blogging Panel
I'll be speaking at the sold-out BlogHer '09 conference in Chicago next week on the food blogging panel (FoodBlogging in the Time of Recession). Looking forward to the panel with the minds behind Simply Recipes, A Year in Crockpotting, Show Me the Curry, and Wine Girl, and to meeting lots of bloggers with great ideas and experiences. See you next week!
FURTHER READING: