Giveaway: Kids Konserve metal lunch kit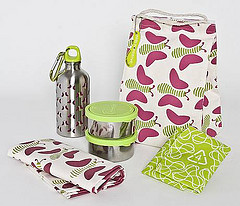 Like the look of a stylish metal lunch set but don't want to plunk down the cash? Kids Konserve has kindly offered to give away a lunch kit and metal condiment container that I reviewed in full here. The winner of this international giveaway can choose between their classic green set, or one of the cute butterfly- or caterpillar-themed lunch sets.
Bonus: If you don't win the giveaway and want to order something on your own, they've also given Lunch in a Box readers a special 10% discount off items purchased from their website through September 30, 2009 (coupon code is lunchbox). (Read on for information on how to enter the giveaway, and other March bento community giveaways.)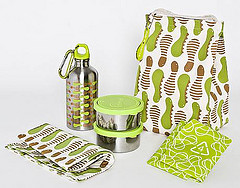 I asked that Kids Konserve open up the giveaway to readers all over the world, not just the U.S., and they agreed (yay!). To enter, leave one comment below with the ideal meal you'd pack to pack in the lunch kit. Entries will be accepted until midnight on Thursday, April 2, 2009, and I'll choose one comment at random on April 3 using the random.org random number generator.
The winner will receive the set of two 250ml round containers with green plastic lids, a reusable Food Kozy sandwich wrapper, a metal drink bottle, a cloth placemat/napkin, and a canvas carrying bag. Additionally, they'll throw in an 80ml stainless steel condiment container, usually sold in a set of four. The whole set is a US$44-46 value, shown on the Kids Konserve store. The winner can choose which design they'd like, either classic green, or the cuter butterfly or caterpillar versions. One comment per reader, please, and comments without meal details will not be considered.
For ideas on what to pack, check out the thousands of lunch photos in the Bento Boxes group on Flickr or the Bentolunch community on LiveJournal.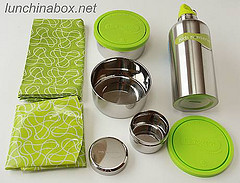 Other Bento Giveaways: (taken from the bento contest announcement section of the Lunch in a Box Forum)
Life Without Plastic metal bento box giveaway on Adventures in Bentomaking (deadline: March 31, 2009)
Handmade bento bag (kinchaku) giveaway on Jewelmaker's bento blog (deadline: March 31, 2009)
FURTHER READING: