Foodbuzz 24, 24, 24: California Hanami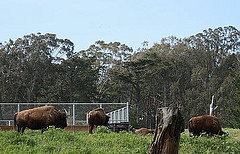 On Saturday we hosted a hanami, the Japanese tradition of a picnic under cherry trees when they're in bloom. Sakura cherry trees blossom only during a brief time during the spring and the pink petals soon fall from the trees, so there's an urgency to enjoying that ephemeral moment when they're at their peak. In Japan, you'll find all kinds of people crowding onto blankets under cherry trees even on busy sidewalks, sprawling out with bento meals, and beer or sake. For our California Hanami, we invited friends to our favorite hanami location in San Francisco, a small clearing of cherry trees in Golden Gate Park across from the Buffalo Paddock. The only thing that was missing were drunk Japanese salarymen in suits trying out their English!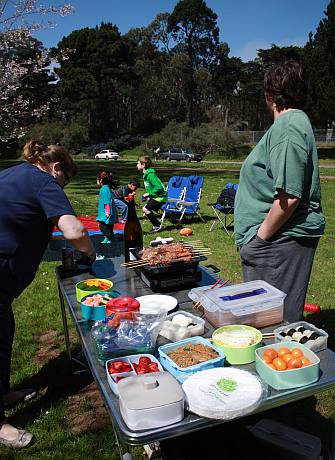 Foodbuzz sponsored the food as a part of their monthly 24, 24, 24 food blogging event, so we were able to put together the most elaborate hanami picnic I've had to date, instead of store-bought bentos or quickly slapped-together sandwiches. I always used to envy the well organized people at hanami who were able to cook meat or chicken on little portable grills — if you were lucky they might strike up a conversation with you and offer you a bite of their tasty food. I decided that this was the year that we would have the great-smelling grilled feast.
Food: We had a variety of marinated meats to grill: chicken thighs, marinated beef short ribs (kalbi), skewered bulgogi beef, and spicy pork sliced thin and skewered. Vegetables like enoki mushrooms and bell pepper strips went on the grill, while salad vegetables like cucumbers, baby carrots and celery were easy to dip in ranch dressing. Rice balls are good finger food, so I made a variety with different fillings: grilled salmon, umeboshi sour plum, Gohan Desu Yo! seaweed paste, kimchi, and plain furikake. Seasoned noodles, sliced ripe strawberries, tiny tangerines, beer and a big bottle of Onigoroshi sake rounded out our little feast. (Read on for food details and reviews of the different picnic containers.)
Here's the meat all packed up in secure Lock & Lock picnic containers, ready to be grilled. There was already a good deal of morning prep involved with the rest of the meal, so I took a shortcut and got the meat pre-marinated from Kukje, a local Korean supermarket in Daly City. The blue containers (details below) come with built-in ice packs and insulated carrying bags for good food safety.
We used a tabletop burner and a JoyCook Korean tabletop grill plate to grill the meat on a portable table, so that we weren't causing a fire hazard or endangering the children running around.
Some vegetables went on the grill…
and we pulled out a pair of white cotton work gloves studded with rubberized dots in case we needed to handle the grill plate.
Cellophane noodles with vegetables from the Korean market rounded out the carb offering: onigiri rice balls.
And simple fruit was for dessert:
And a reasonable but not bad quality sake rounded out the meal. This particular sake is called "Onigoroshi", meaning demon-killer — a playful favorite.
Containers: I don't usually pack large picnics, so I got a number of new containers to hold the food for the group. My favorite was, unsurprisingly, a Lock & Lock insulated picnic set with an attractive insulated carrying bag and ice packs that could be packed right into the tops of the containers themselves. (Gee, news flash: Biggie likes reasonably priced Lock & Lock containers — great watertight lids on indestructible containers that take unbelievable punishment, go in the dishwasher or microwave, and can be dropped without damage.) I got this particular set at Kukje, but I've also seen them at Super Tokio and occasionally Kamei.

It comes with two 510ml rectangular containers (one with cool pack, insert and tray) and two 1.2-liter square containers (one with cool pack, insert and tray).
More stylish than the Lock and Lock picnic sets are the Vivo lunch tiffins
, made out of hard melamine. Now, these are strikingly beautiful and come in a variety of sizes: a tall four-tier round one, a medium three-tier square one, and a small two-tier round one (oval shapes also available). The individual tiers stack right on top of each other, but don't have individual lids — so are not watertight. The containers also lift right out of the metal carrying strap and latch, so are quite beautiful on the table.
The metal latching handle makes them easy to carry if you have a spare hand, but I missed the adjustable shoulder strap that the Lock & Lock picnic set has. When unpacking the car, my husband quickly discovered one drawback to these: they're a little fragile when dropped onto concrete (trial by fire!). The tall blue set fell about three feet onto the street from our car, causing it to break (sniff). Happily, these were supplied by Vivo for review, so at least I hadn't spent my own money on them. 

Bug adores this tiny little orange, pink and red Vivo tiffin, which is too big for a four-year-old's lunch according to the bento box size guidelines. Because there's no separate carrying bag and this is too big for him anyway, what I've started doing is tucking his drink, utensils, and oshibori hand towel into the top layer, and packing his food in the bottom layer. It makes him happy to take such a colorful box to school, although I predict that if he starts to get teased about the pink color he might change his tune (different colors available). I was initially concerned about the latch (would he be able to open and close it on his own?) but it's actually quite easy for a 4-year-old to handle without difficulty.

Not as colorful but perhaps more utilitarian are the plain metal tiffin tins from Happy Tiffin (their smallest 1060ml one shown below, received for review). Drop it and it'll just get dented, not broken. The tiers are quite tight, and the latch is much tighter and harder for a four-year-old to close on his own. We practiced with it together at home, though, and he got the hang of it with concentration. Still takes much more hand strength than the Vivo tiffin tins, though, although I like the fact that the top handle folds down. The bottom hooks are attached right to the bottom tier, which can be a plus or a minus — not as pretty on the table, but one less thing to lose or get stepped on. Happy Tiffin also has some interesting-looking pyramid-shaped tiffin tins for picnics, although the smallest one is pretty large at 2060ml.
All in all, it was a beautiful spring day, with a perfect combination of nice weather, blooming cherry trees, delicious food, and the company of close friends. The next two weeks are going to be peak season for the cherry trees in San Francisco; how about having a hanami picnic of your own or checking out the Cherry Blossom Festival in Japantown on the weekend?
FURTHER READING: