Real-life Valentine bentos at preschool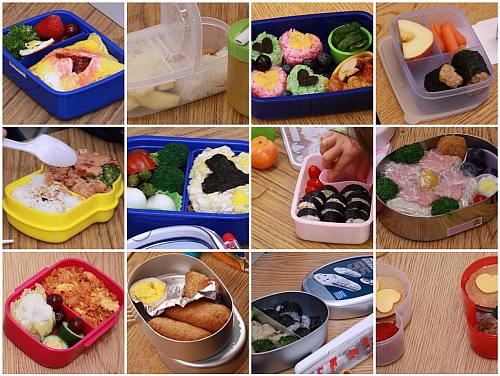 I went to my son's Japanese immersion preschool on Friday for their Valentine's Day program, and asked permission to take photos of the children's lunches in Bug's classroom at lunchtime. I wanted to show the lunches anonymously here so that you all can see that even Japanese moms don't necessarily go all-out for special occasion lunches. Don't set the bar too high for yourself! This was the first time that I was in the classroom at lunchtime to see all of the different bentos, and I learned some interesting things…  (Click for larger photos of each lunch, and info on cheap bento boxes sold at Disney Stores in the US.)
First off, I realized that Bug's bentos are unusual in his class because I don't usually pack rice (although I did on Valentine's Day).
Second, I was a little surprised that there weren't more Valentine-themed bentos. There were a few, but only about a third. This was hugely reassuring to me, seeing that most of the lunches looked like my average speed bento — probably what I would have packed if I weren't running a Valentine-themed bento contest this month.
My confession is that Bug's Valentine bento took about 30 minutes to make, which is FAR LONGER than my usual 10-15 minutes. And of course I didn't budget my time well enough, so was late getting Bug to school. This is why I usually make speed bentos! (Bug's is the third one in the top row, with red and green heart-shaped rice balls. I'll post a more detailed description of the contents later this week.)
I'm going to just present the photos without commentary so that the other moms will continue to talk to me!

I don't want to invite critique, but did want to show the wide variety of real-life bento lunches that you see on a special occasion at a Japanese immersion preschool in San Francisco.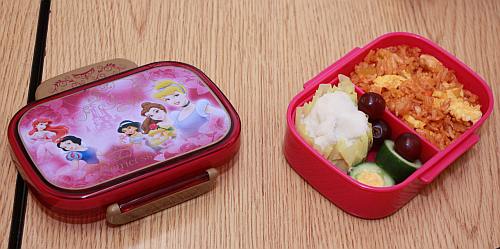 Disney Stores in the U.S. are currently selling a variety of bento boxes in their retail stores, for US$5.50 for one, or $12 for three. They come in a variety of different designs for both girls and boys (Princess, Lightning McQueen, Power Rangers), with two removable subcontainers, and wing-type lids that are easy for small children to manage on their own.  All in all, a pretty good deal for Disney-themed bento boxes, remarkable for being so widely available throughout the U.S. They're about 360ml (good for a preschooler's appetite), and forum member koolchicken has posted photos of some here on Flickr on a forum thread about the Disney Store bento boxes. Use the Disney Store Locator to find a store nearby.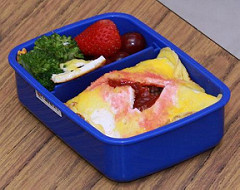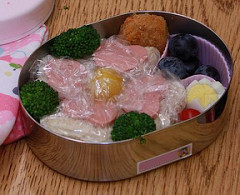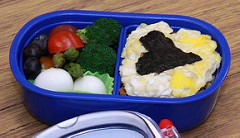 Bug's bento is the one on the right above.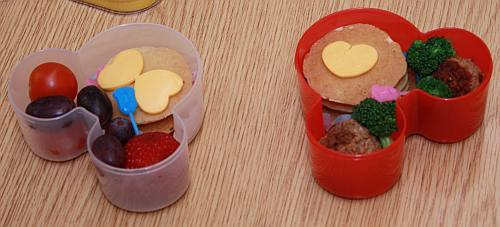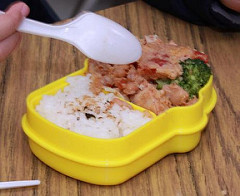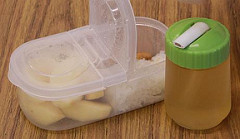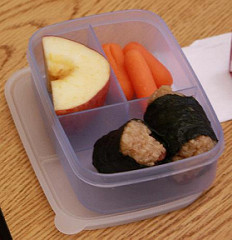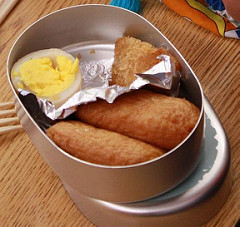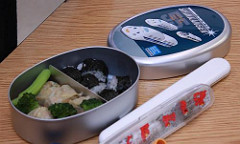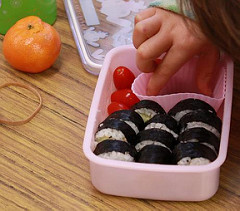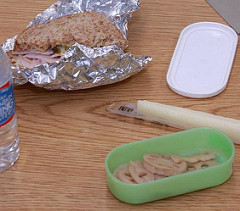 FURTHER READING:
Bento FAQ and Biggie's list of top speed tips, tutorials and reviews