Valentine's bento lunch
In a break from my usual "speed bento" lunches that only take about ten minutes to pack, the other week I made more of an effort for Valentine's Day and packed a special lunch for my four-year-old son to take to preschool. You can see his whole classroom's Valentine bentos lunches here if you're curious. (If you've got any special Valentine's lunches of your own, today Feb. 23rd is the last day for entries in this month's Valentine bento contest with a chance at winning a bento box prize.)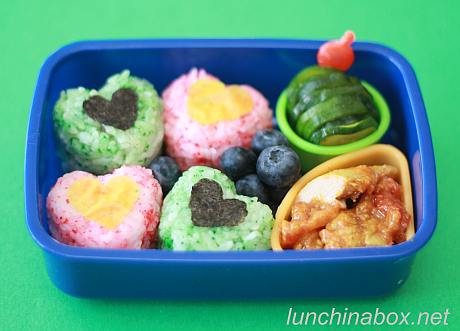 It took me a while to post this as Bug & I were in a car accident last week where we were badly rear-ended, and I've been a little discombobulated and tied up with all the post-crash red tape. Thankfully both Bug and I were able to walk away from the wreck, but our car may be totaled (jury's still out). If you'd like to see a photo of our smashed-up car, I posted one on the forum with some details.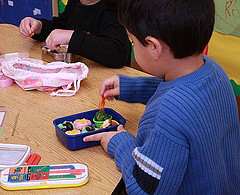 Contents of preschooler bento lunch: Heart-shaped onigiri rice balls filled with Gohan Desu Yo! seasoned seaweed paste (colored with red or green hana-ebi shrimp powder, decorated with nori seaweed and mamenori soy wrappers
described below), blueberries, steamed zucchini with Korean barbecue sauce, and chicken from a homemade Indian curry (lal shorve vala murgh).
Morning prep time: 30 minutes, WAY longer than my usual speed bento, but fine for a special occasion Valentine's Day lunch. My shortcuts were leftover curry, frozen rice, and a heart-shaped molds for the rice balls. In the morning I assembled the rice balls and made the zucchini in my microwave mini steamer. (Read on for decoration and equipment notes, a review of Uncooked Roti-Chapati Indian flatbread dough from Costco, and an additional preschooler lunch…)

Packing: I used new silicone shaped food cups (see my full review of silicone bento accessories here) to keep the curried chicken and moist zucchini away from the more delicate onigiri rice balls. Blueberries acted as gap fillers to stabilize the lunch in transit, and I threw in a little Anpanman food pick for easy eating by little hands. The whole lunch is packed in a 450ml Disney Cars bento box with a removable subdivider.
Verdict: Big thumbs up; Bug ate everything at preschool without leftovers. I happened to be in the classroom during lunchtime that day, and when Bug opened the lid I noticed that one of the blueberries jumped over to the far left of the lunch in transit. All in all, not bad, but maybe something that a little surprise animal cap or antibacterial lunch sheet could have contained.
* * * * *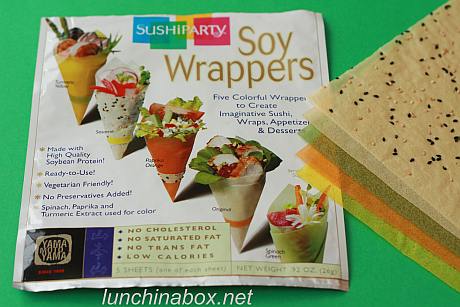 Cooking: I used yellow soy wrappers (mamenori) mamenori soy wrappers
as a decorative accent on the red rice balls. Mamenori can be used as an alternative to nori seaweed in sushi and decorative bentos, but I find it a bit pricey at about sixty-five cents a sheet (ow). I'm keeping the pack and using bits and pieces for decorative cut-outs, but it's not going to fully replace nori for me any time soon. Still, if you don't like the taste of nori and are looking for a good substitute, this is a good place to start (as are thin egg sheets, or usuyaki tamago, see my tutorial for a microwave version).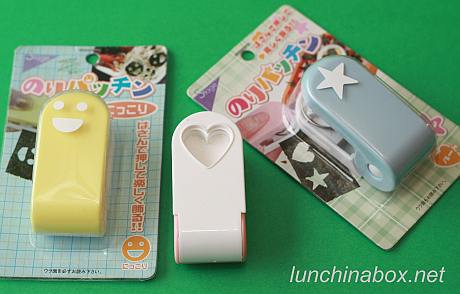 Equipment: I got these shaped punches for nori seaweed for about US$1 each at Ichiban Kan, which make it very fast to create decorative cut-outs from regular roasted nori. I find that they work better on roasted Japanese-style nori than the seasoned Korean kind; the Korean snack nori is crisper and more delicate. These punches don't have any sharp metal on the inside like proper scrapbooking punches do, so they don't work well on paper or more durable foodstuffs like the mamenori soy paper described below. If you have clean scrapbooking punches with large, simple designs already, just use those — you can often pick them up on the cheap at places like Target in the dollar bins.
* * * * *
Here's a more Indian way of eating the chicken curry: with fresh roti chapati flatbread. Bug was supposed to have unrolled the two chapati and used them to eat the chicken, but he wound up eating the flatbread like an unfilled burrito — just taking bites of the plain rolled chapati. Hey, whatever floats his boat!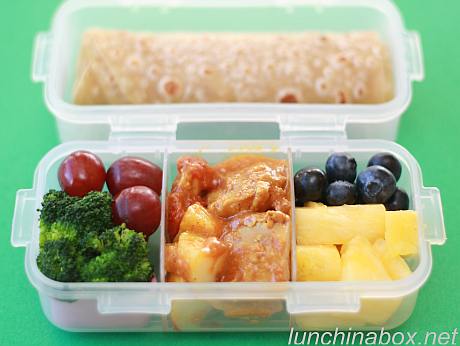 Contents of preschooler bento lunch: Roti chapati bread, steamed broccoli with vinaigrette, grapes, chicken and potato curry (lal shorve vala murgh), fresh pineapple and blueberries. I used the recipe for "Chicken in a Spicy Red Sauce" from Madhur Jaffrey's Madhur Jaffrey's Quick & Easy Indian Cooking
, which I've been turning to recently when I crave Indian food.
Morning prep time: 10 minutes, using leftover curry and pineapple, and ready-to-grill chapati dough from Costco. In the morning I microwaved the broccoli and briefly fried the chapati on a dry griddle.
Product Review: I picked up some uncooked Rotiland-brand "Uncooked Roti-Chapati" from Costco the other week in the refrigerated section. It's basically ready-made Indian flatbread dough that you heat on a griddle, frying pan or tava for 1 minute (about 30 seconds each side) until it puffs up like a balloon from the steam trapped inside. Getting it to puff up like I wanted was a bit tricky; I needed to futz around with the heat until it was perfectly medium otherwise the roti was either undercooked and not puffy, or too browned. At dinner I served them in a tortilla warmer — basically a heat-proof basket I picked up from a local Mexican market — but you could serve them in a stack wrapped in a cloth napkin or clean kitchen towel.
I like having the option of fresh-tasting roti at home without needing to make it from scratch or order in. I usually serve homemade Indian curries with rice, so this expands my options. The fact that it's speedy to make is even better. The big bag I got was resealable, and contained two smaller sealed packages of fifteen roti each. So you're not committed to making all thirty roti at a time — I like this flexibility. I actually froze the spare inner bag so we wouldn't be eating chapati after chapati for an entire week. I'll buy it again.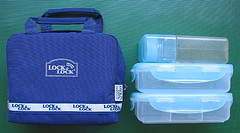 Packing: I reached for the Lock & Lock bento set with built-in subdividers to pack the moist curry that would have affected the smell of the fresh fruit, and the long rolled chapati. The subdivided Lock & Lock container is great as it's watertight and the subdividers come all the way up to the lid, containing moist food effectively.  With each container measuring 350ml, though, it's a little large for a 4-year-old according to the bento box size guidelines. I tried to pack the undivided container loosely to compensate, but it was still too big.
Verdict: Too much food for one meal. At preschool Bug ate the curry, grapes, and half of the chapati. Surprisingly, he left all the rest of the fruit and some of the broccoli. After school he ate the fruit as a snack at the playground, but wasn't interested in the chapati without curry to go with it.
FURTHER READING:
Bento FAQ and Biggie's list of top speed tips, tutorials and reviews