Winner of Bento Blog Search logo contest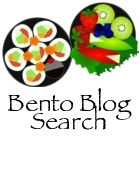 I'm pleased to announce the winner of the logo contest for the new Bento Blog Search engine. First off, I'd like to sincerely thank everyone who spent time working on their submissions. It was difficult to choose just one out of all of the excellent designs, but in the end the honor goes to Robyn Klopp of Nondairy Dreamer. Robyn's graphics struck a chord with me, playfully capturing elements of a Laptop Lunchbox, a Mr. Bento thermal lunch jar, and a traditional bento box.
In February 2009, I'll launch the separate Bento Blog Search engine web page and a separate widget that brings up results only from bento and packed lunch blogs, similar to the Food Blog Search and Veg Blog Search engines. 
It's still a work in progress, but we're much closer now that we have some great-looking graphics! If you'd like to play with it in the meantime, the search box below will give you a taste of the results in addition to the basic Google custom search page.
If you've personalized your Google homepage, you can add a Bento Blog Search gadget to your Google homepage by clicking on this button:  

Thanks again to the people who worked hard on some excellent designs; your contributions to the lunch-packing community are greatly appreciated! And Robyn, I've got some cool bento box goodies to send you.

(Thanks also to everyone who's already voted in the Food Blog Awards! Lunch in a Box is nominated for Best Theme, but is currently in second place behind a popular gluten-free blog. If you'd like to cast your vote in this close race, the polls are open until Saturday, Jan. 24, 2009 at 8pm EST. Your vote for bento lunches could make the difference!)
FURTHER READING: