Food Blog Award & newspaper cover for Lunch in a Box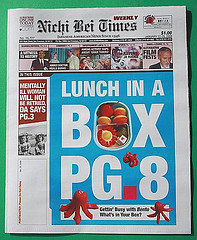 Gong Hay Fat Choy and what a wild week this has been! The Well Fed Network announced the winners of the 2008 Food Blog Awards this morning, and amazingly, Lunch in a Box won the Best Theme category! To top that off, the site was also splashed across the front page of a local Japanese-American newspaper. A great way to start off the Chinese New Year. 
2008 Food Blog Awards
Congratulations to all of the finalists in the Food Blog Awards! There are so many quality blogs out there, and it's an honor to be included for the second year in a row. Thanks also to the Well Fed Network for the huge task of hosting the awards.
The Best Theme category was the most competitive, voted-in category of all fourteen in the Awards, indicative of the loyal reader communities of all the nominees. This also marks the first time that a bento blog has won Best Theme, showing that we're making it into the mainstream. Way to go! jskidmoreca noticed the win earlier this morning and posted the news over on the Lunch in a Box forum.
Karina's Kitchen, a popular gluten-free food blog, came very close to winning Best Theme, and eleventh-hour voting surges on both sides made things more interesting. I felt a kinship with the gluten-free folks as I originally got into bento lunches when my husband was misdiagnosed with celiac disease and we ate gluten-free for nine months. Packing your own lunch is a way of life for people with food allergies, and I've learned a lot from the Japanese art of packing compact, visually appealing bento lunches.
I'm also excited that fellow Best Theme nominee Hank, over at Hunter Angler Gardener Cook, generously volunteered to teach me how to butcher a whole animal, so I may be driving up to Sacramento one of these days for an education!
I'd like to thank my readers, friends, family, my running club and the larger lunch-packing community for your support and encouragement. This award is a gift from you, and my resolution for this year is to write posts that are worthy of your attention. Looking back at recent posts, I notice that I've been focusing on bento community activities, contests and awards somewhat more than usual, straying from my main focus on speedy bento-packing and lunch food. Now that we're through this cyclical blip, I'll be looking to get back to basics.
If you have a moment, browse through the other sites that won and enjoy:
Food Blog of the Year (Overall) - Tartelette
Best Food Blog (Chef) - Tartelette
Best Food Blog (City) - Champaign Taste
Best Blog Covering Drinks (Alcoholic and Non-Alcoholic) - RumDood
Best Food Blog (Family/Kids) - Picky Palate
Best Food Blog (Group) - Apartment Therapy: The Kitchn
Best Food Blog (Humor) - Thursday Night Smackdown
Best Food Blog (Industry) - PigTrip
Best Food Blog (Photography) - Cannelle et Vanille
Best Food Blog (Post) -  "Polenta and Mushrooms and Love Past" - Tea & Cookies
Best Food Blog (Rural) - Farmgirl Fare
Best Food Blog (Theme) - Lunch In A Box
Best Food Blog (Writing) - Smitten Kitchen
Best New Food Blog - Apples and Butter
Nichi Bei Times Newspaper Article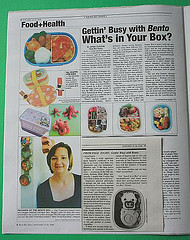 A couple of weeks ago I was interviewed by the Nichi Bei Times, a  Japanese-American weekly newspaper here in San Francisco. The journalist came to my house (uh oh, cleaning time!), took photos, and we chatted for a couple of hours about all things bento.
They invited me into their Japantown offices last Friday to pick up copies of the paper, mentioning that the article made the front page of the January 22-28 issue. I figured it would be a small blurb at most, so I was gobsmacked to see the Lunch in a Box headline and photos splashed across the cover like a fake newspaper you might have made up as a joke. (Click on either photo for a larger view, and here's the full-text article on their site.)
This is the first time the site has ever made the cover story of anything! Totally unexpected, but I can see how bento lunches in America would be interesting for a Japanese-American audience. Welcome to new readers!
The story shows photos from my posts on how to make an octodog (octopus-shaped hot dog), how to mold hard-boiled eggs with ice cream sandwich molds, organizing your bento accessories, and the following five lunches:
Seeking a Sacramento Mom
I'm looking for a lunch-packing mom located in the Sacramento area for a bento-related surprise, courtesy of the Warm Olives bento blog. If you fit this description, please e-mail me at lunchinabox {AT] gmail [DOT} com and I'll fill you in on the details.  [1/27 Update: Wendy from Sacramento e-mailed and I hooked her up with Kate from Warm Olives for a targeted giveaway. Thanks, Kate!]
FURTHER READING: