2008: My bento year in review

2008 was a year of big changes for Lunch in a Box, so I thought I'd step back a moment to look back at the highlights. I turned forty last year, so being at my own midway point may have made me more reflective than usual.
We'll see what 2009 holds: my son'll be starting regular kindergarten this fall, so I'm interested in seeing how a non-Japanese peer group affects his attitude towards his bento lunches. I'm looking forward to more blog changes in 2009 as well, including more bento community features and a site redesign to clean things up.
KUDOS: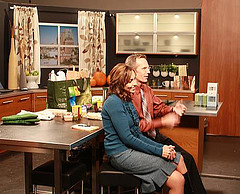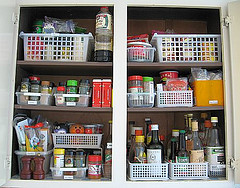 2008 opened with a Food Blog Award for best Family/Kids' blog, which was surprising but cool. It was also a big year for bento lunches in the news, with a number of back-to-school articles citing the blog, both in print and online. The most interesting for me were a photo shoot of my kitchen with Apartment Therapy, and appearances on live TV and radio.
The photo shoot was scary because it was the first time I allowed cameras into my house and my kitchen was nowhere near presentable when I agreed to it. It did prompt me to write a series of posts about the kitchen reorganization with before and after photos exposing my pre-cleaning jumble, in case anyone mistook me for Martha Stewart.

Live TV was challenging as I hadn't done it before, and it was a good exercise in figuring out beforehand which points I wanted to stress on camera. I also lost 25 pounds and got a makeover, lest I scare anyone watching! It's probably time for a new profile photo…
BlogHer CONFERENCE: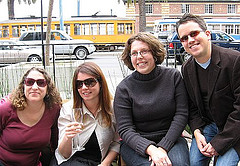 In July I went to the BlogHer '08 conference here in San Francisco, an exhilarating learning experience. It was my first opportunity to meet so many bloggers in person, including food bloggers, mommy bloggers, and even sex bloggers! Kalyn and Elise strongly recommended getting a digital SLR camera for photos, which was the push I needed. I took the plunge in September, and have been playing with my new toy since, figuring out how to make the most of it. This is going to keep me busy for years!
Guest Posting: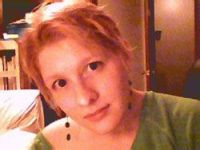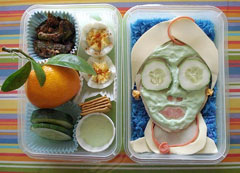 In 2008 I had my first guest poster step in while our family went on vacation. Well-known bento artist Amorette stepped in with a wonderfully informative series of posts about how she creates her spectacular oekakiben creations, even throwing in a cool speed bento tip of her own. I'm grateful to Amorette for her help and expertise, her knowledge of special-occasion bento lunches complementing my focus on the 10- to 15-minute "speed bento." Her posts are are showcased on the new Decorative Food page.
SITE CHANGES: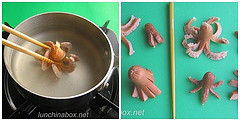 BENTO STORE LOCATOR (BSL): I hired a web guy to design a tool that maps out local stores that sell bento gear, using Google Maps. User-generated information and reader feedback drives the tool, complementing the list of online stores for bento gear. I'm grateful to all of you who took the time to input info on your local stores around the world; the tool is only as good as the info that goes into it, and you've helped make it a very useful tool!
BENTO FAQ: After hearing that new readers felt overwhelmed by the amount of information on the website, I got my act together and wrote a detailed FAQ about bento-style lunches. I hope this serves as a solid introduction to bento and saves new visitors time.
GIVEAWAYS: As the blog grew, I received more offers to review lunch-packing gear. To minimize conflicts of interest, I set out a Product Reviews Policy on a new Reviews page and started giving away anything over US$40 that I review. So far, I've had giveaways for fancy rice cookers, a Mr. Bento lunch jar, a Laptop Lunchbox Set, and the Face Food bento book, with more to come. I don't want the blog to turn into a constant stream of giveaways, but it's been a handy outlet for products that I've wanted to check out but can't in good conscience keep for myself.
POLLS: I've started running monthly polls to learn more about your bento habits, which I'm finding interesting. Hope you do too!
I wish everyone a happy and healthy new year, and thank you all for your readership and support!
FURTHER READING:
Biggie's list of top speed tips, tutorials and reviews