Site and Shopping Updates
A few notes today with bento shopping updates for San Francisco locals, a new Facebook page for Lunch in a Box, a tentative logo, and links for my latest TV appearance. Because this is probably Bug's last year of preschool, lately I've been spending a lot of time touring elementary schools to help us navigate San Francisco's school lottery system. To anyone else in the same boat — I feel for you, and be sure to check out the SF K Files, a blog by a San Francisco parent who went through the same process last year. The numerous reader comments are invaluable and can help you get savvy quickly.
FACEBOOK:

I also made a Facebook page for Lunch in a Box, so Facebook users can track updates there if it's easier. On the Facebook page I put up a placemarker Lunch in a Box logo that I had a designer work on; I'm not totally sure about it yet. Thoughts?
TV LINKS: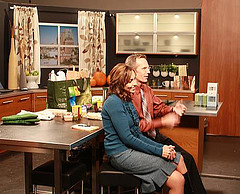 Links are up for the appearances I made last week on Fox40 Live, the Sacramento Fox affiliate's live morning news show. There are two 4.5-minute segments about "Creative Ideas for Thanksgiving Dinner Leftovers". In the first TV segment, I showed the Turkey Mole Enchilada recipe and ways to use leftover bread. In the second TV segment, I demonstrate the Curried Turkey Croquette recipe and show ways to repurpose leftover cranberry sauce. Verdict: Not perfect or anything, but at least I'm still breathing and didn't use bad language.

It was a lot of fun!
SHOPPING:
A few shopping updates today for San Francisco Bay Area locals. I'll be updating the San Francisco Bay Area bento shopping guide and the store entries in the Bento Store Locator with this information for quick reference. If you have info or updates on the best places to find bento gear in your neighborhood, be sure to add it to the Bento Store Locator so that we can all benefit, wherever we are in the world!
Super Tokio: Selection of cheap bento boxes, and reasonably priced Lock & Lock insulated bento sets (individual and picnic) (SF Richmond Dist.)
Sanrio: Unusual bento accessories and character goods (pricey) (Westfield Mall, SF Downtown)
Yes Variety: Many cheap bento boxes and thermal lunch jars (mostly from China), including reasonably priced Lock & Lock insulated bento sets (individual) (SF Sunset Dist.)
(Read on for the full details on each store with photos.) 
1. Super Tokio
I found some of the elusive Lock & Lock insulated bento sets (blue and red striped bags) at this tiny Japanese market run by Chinese. Prices on the new Lock & Lock sets are excellent, and they have both small individual bento kits as well as the large multi-person picnic sets. It looks like they bought some of the Natural bento sets (bottom, middle) from Ichiban Kan and are reselling them at a mark-up. Hey, more bento variety all over San Francisco!
Super Tokio
251 Clement St. (between 3rd & 4th Ave.)
San Francisco, CA 94118
(415) 668-1118
2. Sanrio
I was wandering around in the Westfield Mall on Market Street, and popped into the Sanrio store on the bottom floor by the food court (Bloomingdale's side). Definitely worth stopping by if you're into cute character goods: they had a variety of kinchaku lunch bags, insulated lunch bags, utensil sets, Shinkansen rice molds and Hello Kitty sandwich cutters. Prices are predictably high, but there's no avoiding that if you're in the market for Sanrio character goods. (Click on any photo for a larger view.)
Sanrio
865 Market St.
San Francisco, CA  94103
(415) 495-3056
www.sanrio.com
3. Yes Variety
Located near Sunset Supermarket on Irving Street, Yes Variety is a Chinese discount housewares store with some good-priced Lock & Lock insulated bento sets, cheap Chinese thermal lunch jars, cheap (low-quality) Chinese bento boxes, and little GlassLock-style tempered glass food containers with lids. They're all in the first aisle as you walk in. If you do a lot of baking, be sure to check out their bulk baking supplies in the back, including cupcake liners, disposable baking pans, food picks, and to-go containers.

Yes Variety
2345 Irving St.
San Francisco, CA
(415) 242-5170
FURTHER READING: