Interesting new bento blog by Anna the Red
Wall-E Bento by Anna the Red
I came across an interesting new bento blog that gives step-by-step directions for creating elaborate kyaraben food art lunches. Anna the Red's Bento Factory website is the new creation of Flickr user Anna the Red, who makes fantastic lunches for her boyfriend kickintheheadcomic. She's partial to Studio Ghibli and Disney Pixar (think Totoro and Wall-E, like the bentos shown here).
Keep in mind that these are far from speed bentos, and are more in line with time-consuming oekakiben decorative art bento lunches. Have a look for inspiration for that rare food art bento you might make for a special occasion!
Nekobus Bento #2 by Anna the Red
On Bento Factory, Anna mixes write-ups of complete bentos with detailed how-to posts such as How to make mini Totoro, How to make Thanksgiving turkey bentos,  How to make vegetable flowers, and How to make a sunflower with sausages and a thin egg sheet (see also my tutorial for making thin egg sheets in the microwave, or the master list of all Decorative Food recipes on Lunch in a Box).
(Read on for more info, an additional source for kyaraben inspiration, and information on a new Daiso store in Cupertino.)
You can also see Anna the Red's work on her Flickr photostream, her how-to bento photosets, and kickintheheadcomic's bento photoset on Flickr. I've updated my Lunch Links page with Bento Factory information; be sure to drop me a line if you have a packed lunch blog you'd like me to add. (Thanks to Keiko and Ken, parents at Bug's preschool who work at Pixar, for the heads up on the cool Wall-E bento!)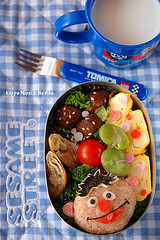 If you're into elaborate bento lunches, be sure to check out hippoPAPA+mum's bento photos on Flickr. This mom and dad team living in Japan make cute character-themed bento lunches for their kindergartener, and take some gorgeous photos. The Sesame Street bento to the right is one example. Very pretty!
SHOPPING:
In other news, reader Freecia points out that Daiso, the big Japanese discount store chain where I get a lot of cheap bento and household gear, has opened a new store in Cupertino, CA. Freecia reports that it's smaller than the Mountain View store, which in turn is smaller than the Daly City store. Thanks for the heads up, Freecia!
Daiso Cupertino
19750 Stevens Creek Blvd
Cupertino, CA 95014
(408) 973-0331
FURTHER READING: