Holiday injury bento lunch
Over the holidays, we moved our huge cat perch into my four-year-old's playroom to make room for the Christmas tree. Our cats Moose and Squirrel love it, but moving it out from the wall led to a mysterious mishap when Bug reported that Moose "pushed it over with his head" when I was in the next room.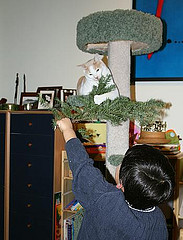 Sounds like Bugs Bunny physics to me, but Moose isn't talking. The cat perch wound up hitting Bug on the cheek on the way down and caused a cut on the inside of his mouth.

The pediatrician recommended giving him soft foods that weren't too salty, cut small enough so that he didn't have to open his mouth wide to eat (no hamburgers). So I packed him a soft lunch with a deconstructed sandwich to eat while things healed.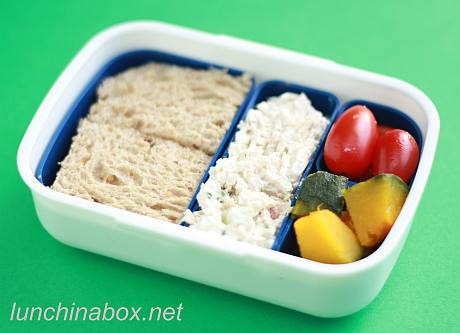 Contents of preschooler bento lunch: Whole wheat bread, chicken salad, simmered kabocha squash (kabocha nimono, recipe here), and cherry tomatoes. When I served this same kabocha at dinner the night before, Bug said he didn't like the kabocha he tried before at a monthly school lunch and didn't want any. But after I asked him to try a bite of mine and tell me if it was the same or different from what he'd had at school, he changed his mind and asked for a portion of his own.
We didn't manage to isolate what was different about the kabocha at dinner that made it okay for him. I wonder if it was the temperature — maybe he prefers it warm. He does respond well to approaching food tastings as an experiment, though. You know, "I'm not going to make you eat it, but can you figure out what aspect you don't like? Is it the taste, smell, texture or appearance?" Kids are funny, but at least he's not a very picky eater!
Morning prep time: 5 minutes using chicken salad from Costco and leftover kabocha (my recipe here). In the morning I trimmed the crusts off the bread and filled the box. Done! Super speedy. (Read on for packing details and the verdict.) 
Packing: I didn't want Bug to have to open his mouth too wide to bite a whole sandwich, so I served it deconstructed with bread and chicken salad separate, and packed a fork with the lunch. I cut off the bread crusts to keep things soft, and cut the bread slice into quarters for easy handling. (If I were into decorative food art I could have used cookie cutters to make the bread into interesting shapes.) The simmered kabocha was stored in its simmering liquid, which would have been messy if it had leaked into the other dishes. (Bug tends to jostle his lunch around on the way to school, never keeping it perfectly level.) I drained the squash on some paper towels before packing it, eliminating the problem. The subcontainers in the 490ml "Four Leaves Clover" bento box (reviewed earlier) kept everything separate. It was a little large for a four-year-old according to the bento box size guidelines, so I figured packing fluffy bread in it would help.
Verdict: So-so. Bug ate the chicken salad and bread at preschool, but passed on the kabocha and cherry tomatoes. When I asked him why he didn't eat the kabocha after he'd made a point of asking me to put it in his lunch, he said he ran out of time because he wanted to play with his friends when they finished eating. I'm starting to understand the thinking of schools that have lunchtime recess BEFORE lunch, so the kids don't cut short their mealtime in their rush to go play!
P.S.: Bug's mouth is fine now, by the way. It was sensitive for a day or two, but he didn't need stitches and he healed right up. Dodged that bullet!
P.P.S.: The Menu for Hope hunger charity has extended its deadline for raffle tickets until December 31, 2008, and has added four new wine-related prizes. US$10 gives you a shot at a Hello Kitty bento set or a Pokemon bento set worth over $100. Interested? 
FURTHER READING:
Bento FAQ and Biggie's list of top speed tips, tutorials and reviews