Giveaway: Laptop Lunchbox Set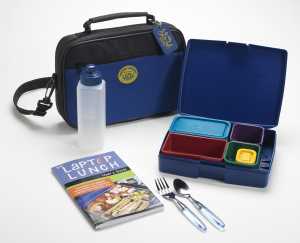 (Dec. 16 UPDATE: The Laptop Lunchbox giveaway is now closed; see the announcement of the winners here.)
Looking for a lunch-packing gift for a friend, or just want to spoil yourself? To celebrate the holiday season, the folks over at Laptop Lunches have offered a free Laptop Lunchbox kit to one lucky Lunch in a Box reader anywhere in the world (not just U.S.).
Bonus: If you don't win the giveaway and want to order one on your own, they're also running a Holiday Discount for 20% off items purchased from their website through December 16, 2008 (coupon code is holiday2008). The coupon code temporarily brings their website prices below those of Laptop Lunchboxes on Reusable Bags or Amazon
, so thanks for the discount! (Read on for information on how to enter the giveaway.)

To enter, leave one comment below with the ideal meal you'd like to pack in the Laptop Lunchbox. Entries will be accepted until midnight on Monday, December 15, 2008, and I'll choose one comment at random on December 16 using the random.org random number generator. The winner will receive the Laptop Lunch Bento Box with all inner containers and utensils, a water bottle, the Laptop Lunch insulated carrying case, and one copy of The Laptop Lunch User's Guide with lunch making ideas. The whole thing is a US$38 value, shown in detail here on the Laptop Lunchbox website. The winner can choose what color inner containers they'd like, either primary colors, red/black, pink, periwinkle, or "whimsical". One comment per reader, please, and comments without meal details will not be considered.
For ideas on what to pack in the Laptop Lunchbox, check out the thousands of lunch photos in the Laptop Lunch group on Flickr. Facebook users might be also interested in the Laptop Lunchbox page on Facebook (in addition to the Lunch in a Box page on FB, of course!).
FURTHER READING: