Lasagna & pizza bento lunches
Packing a bento lunch doesn't mean you're stuck with rice, rice, rice all the time. While it's true that Japanese-language bento cookbooks feature a lot of rice, they also show fun variations like pastas, sandwiches, stews, and salads. And hey, it's your lunch — pack what you want, artificial rules be darned (it's not like the Lunch Police are going to issue you a ticket). Baked pastas like lasagna, ziti, and pasta frittata (recipe here) are particularly well suited to bento lunches as they're boldly flavored and have less of a texture issue that some people object to in plain pasta dishes eaten at room temperature.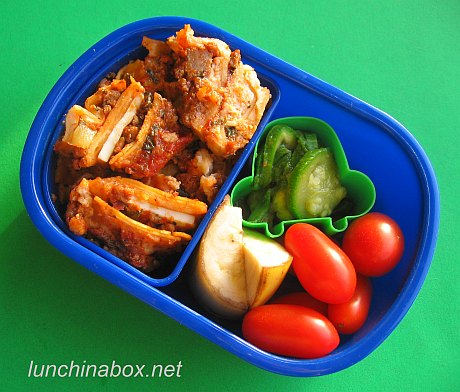 Contents of preschooler lunch: Turkey lasagna with spinach, steamed zucchini with Korean barbecue sauce, grape tomatoes and a decorative banana wedge (how-to here). My friend Jennifer made the fantastic lasagna and brought it over for dinner one night. It's chock full of vegetables and Bug inhaled an adult portion of it at dinner (I think he's gearing up for another growth spurt, judging from his appetite).
Morning prep time: 5 minutes, using leftover lasagna. I packed up the lasagna when cleaning up from dinner two nights before, so in the morning all I needed to do was quickly cook the zucchini (courgette) in my microwave mini steamer and slice the banana (dipping it in acidulated water to prevent browning).
Packing: I microwaved the subcontainer with lasagna in the morning to take the chill off, and put the delicate zucchini in a hard plastic food cup shaped either like a cow or a car, depending on how you look at it. Because I don't spend much time creating beautiful food art, I tend to rely on bento accessories and the color/shape/texture of the food itself to make lunches appealing. It's much faster for a lazy mom like myself. I am looking forward to checking out the new Face Food
book on bento food art once it ships, though — a little bit of bento p*rn never hurt anyone! The lunch itself is packed in a 360ml Disney Cars bento box with one sub-container removed.
Verdict: Thumbs up. Bug ate everything in this lunch at preschool except the banana (which he ate afterwards as a snack). The way he tore through this lasagna at dinner, I wasn't surprised to find it scraped clean from his bento box! (Click to read the full post with an additional lunch and specialty plastic wrap…)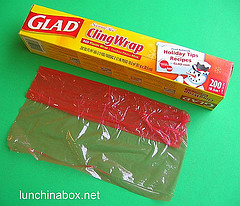 * * * * *
This actual lunch is a bit of a visual snooze, but I'll throw it in the mix because of the cool plastic wrap that I found at my local Safeway supermarket. It's from Glad, a seasonal item available around the holidays. I got the idea from seeing my friend Mami use it to wrap a sandwich in a collapsible sandwich case to contain the crumbs and add a shot of color. I also see moms using this to wrap rolled sandwiches or tiny round rice balls made of fried rice. I'd love to find additional colors; my eyes are peeled!
Contents of preschooler lunch: Apple slices and homemade pizza with feta, zucchini, eggplant, onion and ham. Bug and I made pizza together the night before. In a minor "leftover remake", I had some leftover veggie-heavy pasta sauce from this lunch, so we used that as the pizza sauce that delivered lots of vegetables under the cheese. Bug helped make this pizza and knew there were all sorts of vegetables in the sauce, but it did feel a little like pulling a Jessica Seinfeld.
Morning prep time: 5 minutes, using leftover pizza. In the morning I briefly microwaved the pizza to take the chill off, and sliced the fruit.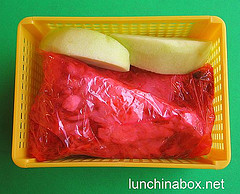 Packing: I cut the pizza into smaller slices fit for little hands, and dipped the apple slices in acidulated water to prevent browning. Bug won't eat apple skin any more, so no more apple bunnies! I wrapped the pizza in red-colored plastic wrap, and packed the lunch in a Snoopy-themed collapsible sandwich case, made especially small for a child.
Verdict: A home run. Bug demolished the entire lunch at preschool, no leftovers. Hey, tell me again why I'm making all this effort to pack anything other than pizza?

RELATED POSTS: