Fancy rice cooker giveaway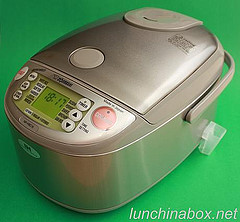 (Nov. 20 UPDATE: The rice cooker giveaway is now closed; see the announcement of the winners here.)
Need a new rice cooker but don't want to drop hundreds of dollars on a fancy one? I've got a Zojirushi NP-HBC10 5.5-cup rice cooker with Induction Heating (IH) and a Panasonic SR-NA10 5.5-cup rice cooker with fuzzy logic
to pass on to two lucky U.S. readers. To enter, leave one comment below with your favorite rice-related tip by midnight on Wednesday, November 19, 2008, and I'll choose two comments at random on November 20 using the random.org random number generator. The first pick will receive the Zojirushi ($350 value, the same one that Ajinomoto and Zojirushi recently gave away in their Lunchbox Photo Contest), the second will receive the Panasonic ($150 value). (Read on for full giveaway details.)
For your rice-related tip, be creative! Any of these would be interesting:
The rice cookers will be will be the same ones that I tested by cooking rice in them, so they're now slightly used. Panasonic and Zojirushi kindly sent me their best rice cookers for the U.S. market to test out, but my Product Reviews policy prohibits me from keeping anything valued over US$40 so it's time to pass them on. The list price for the Zojirushi is US$347 (street price around $287), and the list price for the Panasonic is US$150 (street price around $118). A round of thanks go to both companies for donating these good-quality rice cookers and paying for shipping to the winners.
Only one comment per person on this post please, and you must have a shipping address in the U.S. to win. (Sorry to my international readers.) Comments without rice-related tips will not be considered. Entries close at midnight Pacific time on Wednesday, November 19, 2008, and I'll post the winner on Thursday, November 20, 2008. Stay tuned for the full rice cooker shootout review, and good luck!
FURTHER READING: