Winner of Mr. Bento giveaway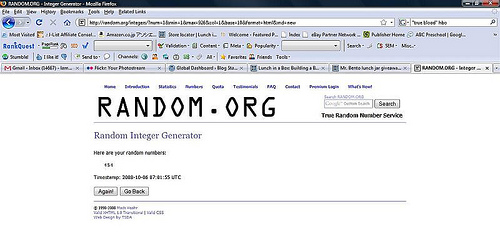 There were a whopping 926 entries in the Lunch in a Box giveaway of a Zojirushi Mr. Bento thermal lunch jar (described in detail in my comparative review), so I plugged the numbers into the random integer generator over at Random.org. The lucky winner is reader Becca with comment #454. Becca writes that she would pack Indian food in the Mr. Bento: chicken korma or saucy butter chicken in the soup bowl, aloo gobi with a rice lid in the rice bowl, plus naan and fruit salad in the side dish bowls. Sounds delicious! I've e-mailed Becca with the news — enjoy!
If you didn't win this time around, be sure to check out the lunchbox photo contest I wrote about earlier; they're giving away twenty-four Ms. Bento thermal lunch jars and a fancy IH rice cooker over an eight-week period (ending Nov. 9, 2008). Good luck!