Fancy rice cooker & Ms. Bento lunch jar giveaway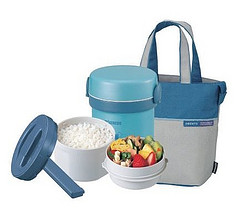 Want to try your hand at winning a super high-end rice cooker or one of twenty-four free Ms. Bento thermal lunch jars? Here's your chance. Ajinomoto and Zojirushi are putting on a joint promotion through November 9, 2008 that gives away three two-bowl Ms. Bento thermal lunch jars a week for photos of your best packed lunches, and one very fancy 5.5-cup induction heating (IH) rice cooker to the best of the weekly winners. The Ms. Bentos run around US$40 and the induction rice cookers start around US$300, so this is some nice loot to try for.
(Read on for the full details.)
The contest allows one entry a week per e-mail address (U.S. residents only), and you can resubmit entries that don't win in the previous week. Details are at their Lunchbox Photo Contest website. Read the fine print, though. Be aware that by entering, you give them permission to use your lunch photo in marketing and advertising without future consent or payment. (Disclaimer: I have no commercial affiliations with Zojirushi or Ajinomoto.)
Also, a reminder that this is the final week for entries in Lunch in a Box's free giveaway of a four-bowl Mr. Bento thermal lunch jar I used in testing for my detailed thermal lunch jar shootout review, pitting it against the Nissan Thermos lunch jar. Leave a comment at my separate giveaway post by Sunday, October 5, 2008 with your favorite dish that you'd pack in the Mr. Bento, and you have an even chance at winning. These and other packed lunch contests and blog events are updated on my Lunch Blog Events page. Hats off to the Ichiban Kan store blog for the heads up on this contest.
FURTHER READING: