Bento lunches on live TV news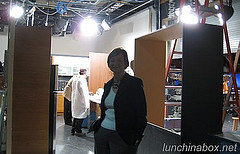 Last Friday I drove to Sacramento to do a TV segment about American-style bento on the local Fox40 morning news. I brought two big bags full of bento boxes, three packed bento lunches, thermal lunch jars, bags, and accessories, with an electric kettle to make molded eggs and an apple to make some quick apple rabbits on air.
I came prepared to cook and assemble an actual bento lunch live, but breaking news about Hurricane Ike shortened the time available and killed some other segments. Hey, at least I survived and got on the air! The original live spot was a little longer, but was edited down to 3.5 minutes for the website. In other news, there's a lengthy interview with me up at the Food Interviews blog; have a look if you're curious and check out some of the other interesting food interviews.
My three-year-old was a little puzzled as to why I was making four bentos the night before the TV shoot, and kept asking me which one was his lunch. He was just fine with his normal speed bento until he saw the super-cute Japanese food art lunch that I made to illustrate the other end of the bento spectrum, and made me promise to save that one for him to eat after preschool. I kept it on ice in an insulated lunch bag to make sure it survived the day, only taking it out briefly for the actual filming. Here it is, setting the bar too high for normal rushed parents (sorry!). I showed it live on-air, but it was edited out of the online segment.
* * * * *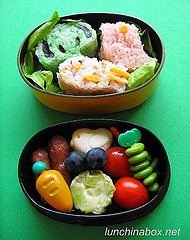 Contents of preschooler bento lunch for TV: Rice balls shaped like an elephant, fish, and bird (flavored with green hana-ebi fish powder, pink sakura denbu sweet fish powder, and salmon furikake rice sprinkles, decorated with cheese and nori seaweed). Mini cocktail sausages, a hard-boiled quail egg molded to look like a bird, edamame skewers, cherry tomatoes, blueberries, edamame shumai dumpling and dipping sauce. (Click on any photo for a larger view.)
Prep time: 45 minutes, WAY too long for a speed bento (contrast this with Bug's actual lunch, below). I used frozen rice and shumai to speed up the process, but this was still too time-consuming for a regular weekday lunch. Honestly, it was a little irritating to make as I don't usually spend this much time on a single lunch. (Read on for three more Western lunches and more about the TV shoot.)

Packing: After microwaving the frozen rice, I split it into three bowls and mixed in the three coloring/flavoring agents. I lined the bottom tier of the 380ml Hakoya bento box from Kamei with a leaf of Bibb lettuce for visual effect, then formed the shaped rice balls directly in the box using cheap rice molds from Ichiban Kan. I made the egg shaped like a bird with a little quail's egg mold, skewered the edamame onto thin food picks from Daiso, and filled the carrot-shaped sauce container with soy/vinegar dipping sauce (the pre-filled sauce containers I had on hand for speed weren't this colorful).
Verdict: Super-excited thumbs up from Bug, who practically vibrated when he saw this lunch. I let him have it after his swimming lesson, and he ate one of the rice balls and most of other food before he accidentally knocked it onto the floor.

So he was satisfied even though I wouldn't let him finish the dirty food.
* * * * *
This was Bug's actual lunch for preschool on Friday, much more typical for me than the fancy lunch shown above. Because I had to leave for Sacramento at 5:30am, I wanted to make a lunch the night before that would survive overnight in the refrigerator without any morning futzing. I told my husband he'd just need to grab the bag out of the fridge and hand it to Bug, and this did the trick.
Contents of real preschooler bento lunch: Kibbeh patties (spiced lamb and bulgur wheat) with ketchup, cherry tomato, edamame skewers, steamed zucchini (courgettes) with Korean barbecue sauce, and cornbread mini muffins. Earlier in the week I made a batch of mini muffins for the TV segment and put them in a freezer container to show how to build up a freezer stash of bento staples.
Cooking: The kibbe meat was leftover from when I catered a big Middle Eastern lunch for my running club; it was originally accompanied by a lemony walnut sauce that comprised a Syrian-style deconstructed kibbeh kebab. I used the recipe for "Broiled Kibbeh Kabobs with Parsley, Lemon, and Walnut Sauce" from Paula Wolfert's cookbook The Cooking of the Eastern Mediterranean, which was time-consuming but delicious when squeezed onto flat metal skewers and grilled over charcoal. There was some raw meat mixture left after the event, so I made that into small patties at home and pan-fried them before wrapping individually and freezing. (See the full list of food books in my kitchen for mini cookbook reviews.)
Prep time: 13 minutes, using frozen muffins and kibbe. I microwaved the kibbe, edamame and zucchini slices (in my microwave mini steamer) and then tossed the drained/dried zucchini with bottled sauce to add a quick hit of flavor. The most time-consuming element was threading the extra edamame from the fancy lunch onto the little Anpanman food picks.

Packing: Ketchup went into a little lidded sauce container (3 for US$1.50 at Daiso), and I used hard plastic food cups to contain the moist zucchini. The whole lunch is packed in a 350ml divided Lock & Lock container from a bento set, about the right size for a three-year-old according to the bento box size guidelines.
Verdict: Thumbs up. Bug ate everything at preschool, no leftovers. Hooray!
* * * * *
This was more of a typical speed bento. I wanted to pack foods that would be fast and familiar to local audiences, nothing too Japanese or strange. On air, I just described the kibbeh lamb patties as "little hamburgers."
Contents of adult bento lunch for TV: Mini quiche Lorraine, cheese cubes, kibbeh patties and ketchup, cherry tomatoes, and steamed broccoli flavored with vinaigrette.
Prep time: 15 minutes, mostly inactive prep waiting for the frozen mini quiches to bake and then cool. In the morning I cooked the quiches in the convection toaster oven, and microwaved the meat patties and broccoli.

Packing: The ketchup went into a lidded sauce container (US$1-1.50 for 3 from Ichiban Kan or Daiso), and I removed one of the bento box's subcontainers to accommodate the larger meat patties. Cheese cubes and cherry tomatoes acted as gap fillers to stabilize the lunch for transport, preventing a "foodslide" when the lid was opened. The lunch was packed in a 490ml Asvel-brand bento box with removable sub-containers and a steam vent in the lid.

Verdict: ??? The camera crew descended on the bentos after filming ended, and I offered them all of the food except the cute bento that I was saving for Bug. They were hesitant about the kibbeh, but wound up eating everything except the vegetables. The molded hard-boiled eggs that I showed on air were the biggest hit.
* * * * *
The third bento I showed on TV was a typical peanut butter and jelly sandwich in a collapsible sandwich case, which was fun to break down on camera.
Contents of adult bento lunch for TV: Peanut butter and Marionberry jam sandwich on whole grain bread, a whole apricot, apple bunnies (see the step-by-step apple rabbit tutorial), Concord grapes, zucchini with Korean barbecue sauce, and red/yellow cherry tomatoes on the bottom of the box to prop up the apple and apricot for the cameras. Hey, it was a deep box!

Prep time: 10 minutes. I slapped together a quick sandwich and microwaved some zucchini slices in my microwave mini steamer while the apple rabbits soaked in acidulated ice water to curl the ears and prevent the fruit from browning. I didn't use quite enough lemon juice in the soaking water, though, so on the set I replaced the slightly brown apple bunny with a new one for the cameras.
Packing: I packed the moist zucchini in a disposable lidded condiment cups
that I also use for homemade jello jigglers, and used clean kitchen scissors to snip off a single bunch of Concord grapes (keeps them together nicely). If you don't feel like buying a whole sleeve of disposable condiment cups, you can often scrounge them from pizza delivery, hand-wash and reuse them indefinitely. The entire lunch is packed in a Shinkansen-themed collapsible sandwich case with movable divider.

Verdict: ??? The TV crew ate about half of this after shooting, leaving the zucchini, grapes and tomatoes. Am I sensing a theme here? Maybe the camera guys don't like veggies?

I ate the leftover veggies from all of the lunches in the car on the drive back to San Francisco as a late breakfast. That and coffee got me through a total of about four hours of driving that morning, round-trip…
* * * * *
Here's a side view of Fox40′s new kitchen set, complete with non-functioning sink (the secret's out!). I had about 15 minutes to set up after the previous segment concluded.
And here's Karen, the wonderful segment producer and mother of three who first contacted me when I was in Alaska, then skillfully guided me through the ins and outs of live TV. Thanks Karen, you were amazing and it was a great first experience being on TV!