Site updates & SF shopping
I've been doing a little work on the site lately, and revamped my About page to include comment guidelines and some additional sections at the bottom. It includes a link to the new Press and Awards page that highlights some of the more notable press and web mentions of Lunch in a Box. Recent mentions include articles in Cincinnati Weekly and the Daily Breeze (Torrance, CA newspaper via Inside SoCal), and posts on Apartment Therapy's The Kitchn and Ohdeedoh. Welcome new readers! There are other mainstream media articles on bento lunches in the works for the back-to-school season; I'll update the Press page with new articles as they appear.
Shopping: Rainbow Grocery stocks bento boxes!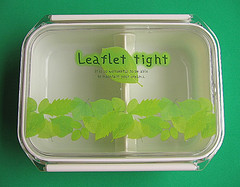 I was interested to see that Rainbow Grocery co-op in San Francisco has started carrying bento boxes! Prices are actually not outrageous, which is my usual peeve about this large natural foods store. The staff didn't even blink when I asked where their bento boxes were, and pointed me right to them.
In the housewares section in the front corner, they now stock the Leaflet Tight bento boxes (650ml and 800ml), Laptop Lunchboxes in a variety of colors, thermal drink and food jars from Laptop Lunch, 2-tier stainless ToGo Ware tiffin tins, ESMA Clip & Close containers that can be used as bento boxes (a small square, and a long 1.1-liter rectangle with removable sub-containers), and a 750ml Pyrex rectangle made of tempered glass that would work as a bento box. I've added the store and my feedback to the Bento Store Locator (BSL) with Google Maps, where readers can also add their own feedback and listings for bento stores around the world. Thanks to my friend Cherie for the heads-up.
FURTHER READING: