Online coupons for lunch gear
I've got some coupons for discounts at Michael's and Reusable Bags, just in time for the back-to-school season. Do you know of any other good, relevant coupons for bento and lunch-packing gear? Let us know in comments.
1. 20% off at Reusable Bags (also sells Laptop Lunchboxes)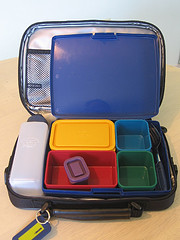 Use coupon code f70838 (case sensitive) for 20% off all purchases from Reusable Bags until April 2009, or code FREEACME (case sensitive) for a free Acme reusable bag on purchases over US$50. They ship internationally, so if you can't get this sort of thing locally, check out their lead-free lunch gear, lunch kits, lunchboxes, reusable bottles, lunch bags (for kids and insulated), and the lead-free Laptop Lunchbox. I found their FAQ on health and safety issues to be helpful in learning about lead and plastic concerns. (Check the Reusable Bags listing on coupon website Retail Me Not for updated coupon codes.)
The name of the store reminds me of an area where I've made some changes to my habits recently: reusable bags. Because I'm absent-minded, even though I have all kinds of large reusable bags stashed in the trunk of our car, I often forget to bring them into the store with me when I'm shopping. To solve that problem, I recently bought a couple of ultra-compact reusable bags: one for US$1 from Ichiban Kan, and a $5 ChicoBag from Rainbow Grocery in San Francisco. They fold compactly into themselves, and I stash in the mesh side pocket of my messenger bag so that they're always on me when I'm out. This has made a huge difference in reducing my use of store bags. It reminds me of when I was a kid and my mom threaded my mittens onto a string and put them through the arms of my winter jacket so I didn't lose them — very convenient! (Click for the Michael's 40%-off coupon, and info on Bug's new pimped-out Sigg metal water bottle.)
Recently it also seemed like the cheapo water bottles I had for Bug had all started to lose some important element: part of the straw, a rubber gasket, etc. So for the new preschool year I finally gave in at Peek-a-Bootique in San Francisco and got a 0.4-liter Sigg bottle without fiddly parts to get lost. I pimped it out with a cool blue nalgene insulated pouch that clips onto a bag or belt loop: model #7106.50, although it seems to be less commonly available: try the store listings at the Sigg website itself. I've been clipping the bottle onto the side of my messenger bag so that it's always on me when we go out, and Bug always knows where his water is. I wish they made the same style pouch for their larger water bottles; I'd like one for myself! Also picked up a Sigg kids' carrying strap
so Bug can carry the bottle around his neck or over his shoulder, although we don't use both the sleeve and the strap at once.
Readers know that I'm a big fan of bargains and cheap things, but this is one case where I'm really happy having spent the extra money for quality. I like that the case protects the bottle from dings when Bug drops it, clips right to my bag, absorbs moisture from condensation, and provides light insulation (not heavy-duty). I also like the easy-access flip-top on the kids' bottle, and the easy-pull mouthpiece that your child sucks on to get water without creating suction in the container. And I'll admit to having more peace of mind now about health concerns surrounding plastics and lead leaching into drinking water from the water bottles. Both Reusable Bags and Amazon have a variety of Sigg products and other reputable metal bottles like the Kleen Kanteen, although Reusable Bags is a little low on inventory at the moment. It feels like a continuation of the Gradual Green-ing of Biggie…
2. 40% off at Michael's craft store

This weekend Reader "Moo" e-mailed me links to printable coupons for Michael's, a large arts & crafts chain in the U.S. and Canada (click for the Michael's store locator). Print out a 40% off coupon (good until Aug. 30, 2008) or 20% off coupon (good until Sept. 30, 2008), and bring it to the store for a discount on any one item. Some items are excluded, like sale items and gift cards.
Moo writes, "In their baking section, you can get silicon baking cups, picks, and whatnot, that I've seen you use. If you find a nice cashier like I did, you can use more than one of the 40% coupons, even though it states 'one coupon per customer per day.'  If not, they do allow you to print multiple coupons and go in once each day (or maybe, multiple times each day if you know when people shift-change) until the promotion ends." Thanks for the savvy bargain-hunting, Moo!
(Disclosure: The Reusable Bags and Amazon links are affiliate links; using them to get to the sites when making a purchase helps support Lunch in a Box at no additional cost to you. I have no affiliation with Michael's.) 
FURTHER READING: