Kitchen Reorganization Series: Pantry
I freaked out in anticipation of a photo shoot with Apartment Therapy's The Kitchn blog for last month's photo tour of my bento kitchen, and did a sweeping overhaul of my cabinets, refrigerator and pantry before they came. In part one of my Kitchen Reorganization Series, I showed how I reorganized my scary spice pantry. Here's part two: my main kitchen pantries. Once upon a time these cabinets were organized, but all that remained was a general skeleton of sections where different types of foods went. It was time to get to work before the cameras arrived! (UPDATE: The series continues with the reorganization of my refrigerator and freezer and the remaining cabinets and garbage containers for the prep area.)
Organization had gone downhill and turned into the disaster area that you see above. The problems were that I often forgot what was in the back of the cabinet, and I needed to get out a stepladder to root around in shelves up high. I did have a single pull-out pantry basket with baking ingredients like cornstarch and baking powder, but this was just a drop in the bucket. This kitchen cabinet needed some serious culling and organization. (Click on any photo for a larger, annotated view.)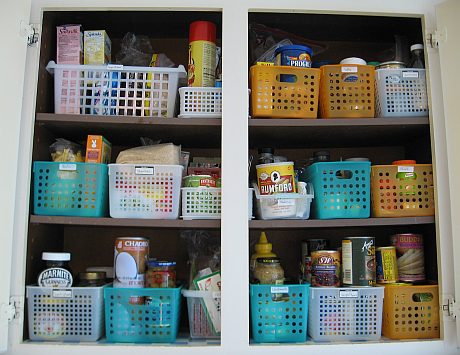 Again, enter pantry baskets. To rehash, here's why pantry baskets work for me:
Storing related things together in baskets means that you can just pull a single basket down from a high shelf instead of pulling out a stepladder to root around.
Because I pull out entire baskets more regularly, I'm more familiar with what's in the pantry and will be less likely to re-buy something I already have (I do this from time to time. D'oh!). Any food inventory system should save you money in the long run.
(Read on for the full kitchen pantry reorganization & a request from a Tampa Bay, Florida journalist.)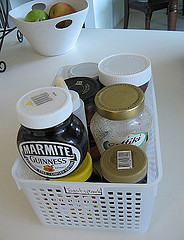 A trip to Daiso and Ichiban Kan discount stores yielded a variety of organizer baskets and trays for the pantry and refrigerator. (For store information see the online store list and the San Francisco Bay Area shopping guide for bento gear.) I measured the depth of my cabinets before shopping and brought a tape measure with me to the stores to make sure that anything I bought would actually fit inside the cabinets. The cabinets above are relatively shallow, so many of the baskets in the stores were too long. I used many more baskets than I initially thought I would, and made multiple trips to Daiso and Ichiban Kan for additional supplies in different sizes as I made progress. You might not be able to anticipate everything you'll need for a kitchen reorganization until you're in the middle of it, sorting through cans. Don't beat yourself up over this — it's par for the course.
I labeled some of the pantry baskets to help my husband navigate, but didn't want to label everything as that would feel too restrictive (gotta give myself some wiggle room going forward as the contents of my cabinets change). Some of the labeled pantry baskets include toast spreads (three kinds of Marmite yeast extract, Nutella, honey, etc.), pasta, starches/grains, salts (fleur de sel, table, sea, rock), baking, dried chili peppers, popcorn, flour/sugar, and soup/beans. (Click on the photo for a view with complete notes.)
Highlights for me are the toast spread basket, the salt basket, and the flour/sugar basket.
Having all of our toast spreads together in one basket means I can quickly grab that (and the toast spread tray in the refrigerator) in the mornings for breakfast.
The salts used to be scattered all around on the top shelf and hard to reach, now they're all in one container that I can easily pull down when cooking. Salt is something that my husband uses when he cooks, so he appreciates that they're easier to find now.
Having a variety of flours and sugars tucked in here and there on the top shelf also meant that I had to get out a stepladder when I needed something; having everything together in one large pantry basket eliminates the need for a stepladder. It also speeds up my cooking prep because I'm not spending time searching through the cupboards for what I need.
Verdict: A month and a half later, I've been able to maintain this cabinet organization because of my large downstairs pantry area (I have definite packrat tendencies — I realize this!). If I didn't have excess room to contain the overflow, I'd have to be a lot more disciplined.
* * * * *
I didn't take a "before" picture of the tall pantry area next to my wall ovens, so use your imagination. The middle shelves were pretty much under control, but the very top and bottom shelves were a disaster area. They had been organized about four years ago when I went through all of our cabinets weeding out glutened items, but over the years I lapsed on maintenance and just shoved things in willy nilly. Pantry baskets and bottle bins were the solution for taming these deep shelves, giving easy access to items in the back.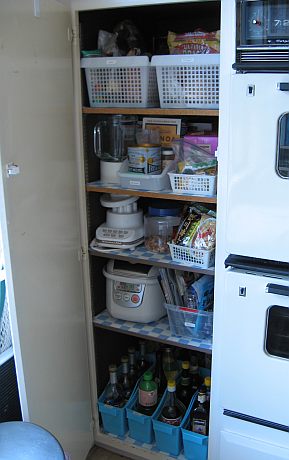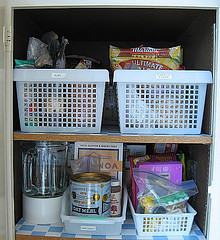 The top shelf holds three baskets with dry good staples that I use often. Nuts, legumes, dried fruit and cereal are in front, and a basket turned sideways behind them holds all of my corn products (polenta, grits, corn flour, cornbread mix, etc.). Again, click on any photo for a larger view with annotations.
The second shelf down includes a refrigerator tray with hot cereals (oatmeal, quinoa cereal, maple sugar, brown sugar), and a small bin with a baggie of individual condiment packets I've salvaged (good for packed lunches!) and Indian ready-to-eat foods that we found when my husband was misdiagnosed with celiac disease (gluten intolerance). The foil pouches of Indian food were great when my husband went on business trips and needed to be self-sufficient in terms of gluten-free food not cross-contaminated in restaurant  kitchens.
Also on the second shelf is our blender jar, a Korean barbecue grill for tabletop grilling, an earthenware hotpot for shabu shabu or nabe dishes, and my takoyaki octopus ball maker.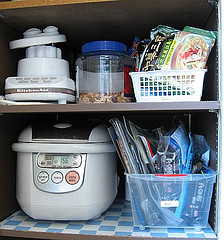 The third shelf has a small basket with ramen noodles, mixed nuts, and the rest of our blender. Behind them is a portable gas burner for tabletop or outside cooking, a narrow pantry basket with extra gas canisters, and a chip/dip server. I use the portable burner when making  Korean barbecue or hotpot at home, or when catering outside parties for our friends.
The fourth shelf down has my rice cooker: a 10-cup fuzzy logic rice cooker from Sanyo
, reasonably priced for a large, high-end model (found in San Francisco at Kamei for under US$100). Next to it is a large plastic bin with wheels on the bottom that holds all of the nori seaweed that had been cluttering up my main pantry areas above the kitchen counter. Putting all of the nori together and moving it out of the way was a good solution for me to keep things from falling on my husband when he opened the cabinets… Big thumbs up for the nori basket! Behind the rice cooker is a bag of rice and a case with food processor blades and attachments.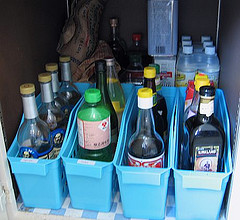 The bottom shelf of the pantry holds all of the heavy bottles and bags of rice (it's good to put heavy items down low). Deep bottle bins from Daiso (US$1.50 each) are the perfect size for containing and organizing random bottles, and make it easier to get at things in the back.
Verdict: Not bad, but I'm having trouble remembering what's where in the back areas of the shelves (this isn't a new development, mind you). I'm thinking of using post-its, stickers or labels on the inside of the cabinet door at each level to serve as a reminder. There wouldn't be many, just a few that say: Burner, Takoyaki maker, Chip/dip server, Nabe, etc. I've also bought a few things that don't have proper homes yet but deserve them, like mango mini pudding cups. I think I see a bento-specific pantry basket in my future; it's kind of unbelievable that I didn't create one in the first place.
Request for Source from a Florida Journalist: I got an e-mail from a Tampa Bay Area newspaper journalist looking to interview a local mom who makes bento lunches for her children. If you fit the description and would like to be interviewed for a newspaper article, please e-mail me at lunchinabox (AT] gmail (DOT} com and I'll put you in touch.
FURTHER READING: