One million visitors and bento contests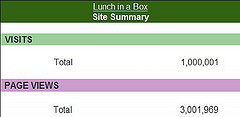 1. Milestone
Today is a big milestone day for this blog: One million visitors and three million page views since Lunch in a Box started here at its own domain thirteen months ago, in June 2007 (source: SiteMeter)! Now that's nowhere near the size of food blog giants like Simply Recipes or 101 Cookbooks, but I'm content with my first blogging foray. A big thanks to everyone for tuning in and sticking around as I worked out the technical kinks over the last year. Bento lunches are becoming more popular and mainstream; it's an exciting time to be blogging about them. To commemorate my 1,000,000-visitor mark, I've created a page for community announcements of packed lunch blog events & contests. Details below.
2. Bento contest and blogging events
For all of you who take photos of your lunches and put them up somewhere on the web, I've put together a Lunch Blog Event page where I'll link to current contests and blogging events specifically focused on packed lunches. Think of it as a miniature version of Is My Blog Burning focused solely on packed lunch events. If you run a contest or blogging event for packed lunches of any kind (bento box, Laptop Lunchbox, thermal lunch jar, Tupperware, brown bag, etc.), let me know via e-mail at lunchinabox (AT) gmail (DOT} com and I'll update the page. Regular lunch-packers can check this page to stay up to date with the latest lunch blogging events.
We've got one new bento contest in addition to the ongoing Wholesome Lunchbox event over at Coffee & Vanilla. To commemorate her 100th bento lunch, "Bento Pet" of On a Bento Frenzy is holding a contest for "regular people packing regular bentos" (not kyaraben food art), and she's put together a nice stash of bento gear as a prize. The entry deadline is July 29, 2008; check out the contest and prize details for your chance to win free bento supplies. (I'm also attending the BlogHer '08 blogging conference in San Francisco this weekend, and attending a restaurant meet-up of food bloggers on Sunday.)
3. BlogHer '08
I'll be attending the BlogHer '08 blogging conference here in San Francisco starting this Friday, July 18. If you're a food blogger attending the Birds of a Feather food session, moderator Kalyn of Kalyn's Kitchen has assigned some homework and planned opportunities for food bloggers to get together during the conference. This includes a Sunday get-together at a local restaurant for all Bay Area food bloggers who might not necessarily be attending the conference. I should be along for the whole ride, so I look forward to meeting people in person.
I haven't sat down yet and seriously thought about the homework assignment of a ten-word description for my own blog, but I still have four days, right? Flirting with disaster, I'm initially drawn to: "Lazy mom packs box lunches and freezes stuff for later." What's that you say? Still needs polishing? Hmmm…