Spice cabinet reorganization
About a month ago Apartment Therapy's kitchen blog The Kitchn asked if they could come to my house and take pictures for a photo tour of my bento kitchen. Now, I don't live in House Beautiful with a gorgeous remodeled kitchen, and only parts of my kitchen were organized, so this was a terrifying prospect. I finally decided to treat it as an opportunity to do a massive reorg of my kitchen, incorporating tips that I've seen in my Japanese freezing and housekeeping books. It took me over a week to overhaul the kitchen pantry, refrigerator, freezer, deep freezer, and downstairs pantry. It's way too much for a single post, so join me for the first installment of my Kitchen Reorganization Series with nitty-gritty "before" and "after" photos. First stop: the spice pantry. Behold the unorganized scariness! (UPDATE: The kitchen reorganization series continues with my main pantry, refrigerator and freezer, and the remaining cabinets and garbage containers for the prep area.)
I had previously put our commonly used spices into plastic trays (bottom left) so that I could lift out similar spices and sort through them quickly (salts and peppers in one, whole spices in a second, and ground spices in a third). But noodles and furikake rice sprinkles had encroached on the spice area, and the rest of the cabinet was a jumble of assorted bottles, jars and boxes. My husband was forever asking me where things were and getting frustrated by the crowded cabinets. I had to pull out a stepladder to reach things tucked in the back on the top shelf, and trying to pull down a box of teabags was an easy way to get a shower of boxes on your head. Obviously this needed work! (Click on any photo for a larger, annotated view.)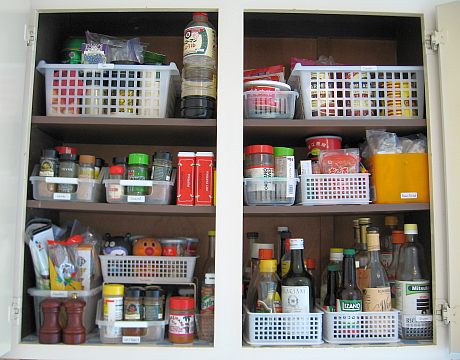 Enter pantry baskets. The first few times I saw pantry baskets in Japanese organization books I didn't immediately recognize their utilitarian benefit. Yes, you can put like items together, but:
Storing things together in baskets also means that you can just pull a single basket down from a high shelf instead of pulling out a stepladder to root around.
Because I pull out entire baskets more regularly, I'm more familiar with what's in the pantry and will be less likely to re-buy something I already have (I do this from time to time. D'oh!). Any food inventory system should save you money in the long run — what's yours?
(Read on for the full spice cabinet reorganization…)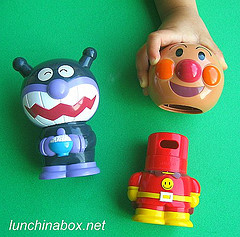 I went to Daiso and Ichiban Kan discount stores and bought a mountain of organizer baskets and trays for the pantry and refrigerator. (For store information see the online store list and the San Francisco Bay Area shopping guide for bento gear.) Of course this was the day I was wound up being recognized by a reader in Ichiban Kan — on Cleanup Day at Bug's preschool, with me looking super-scruffy from cleaning. Oh well! At least I have no pretense of being Martha.
So the top shelf now holds large baskets with light items like teas (left) and cocoa/espresso powder (right); no more box avalanches! I used a metal shelf organizer in the spice area to add storage space for a bin of furikake rice flavoring sprinkles above a tray of salts and peppers. I'm particularly happy with having imprisoned the little Anpanman and Baikinman furikake containers. Mwah ha hah! A new villain is born…
Time to turn my attention to the messy secondary spice cabinet just above my microwave oven, where I keep spices that we don't use as often. Most of my husband's barbecue spices and rubs are in here (remember his DIY smoker built out of flowerpots?), but of course he got frustrated by the ever-increasing number of random bags and containers just sort of shoved in on top of the once-organized baskets. Again, time to revisit.
I decided that the biggest issue with storage in this area was the odd-sized bags and containers that bulk spices come in from the various ethnic markets and wholesale clubs. One option was to pour small amounts of spices into little spice bottles that I've saved up, but the sheer number of spices I have meant that there wouldn't be enough room in this little cabinet to store them all that way.
Instead I remembered a reader tip that I'd seen on America's Test Kitchen, where someone put their spices into one-quart freezer bags, labeled the tops with office labels, and put them all into a lidded box. I didn't want to do this with the spices I use all the time, but it seemed like a good alternative for bringing my secondary spice jungle under control, taking advantage of the cabinet's vertical storage space.
I created four boxes of alphabetized spices in freezer bags: two of whole spices, one of ground spices, and one of my husband's barbecue spices and leftover rubs. I was initially concerned that it would be bothersome to get just a little of one spice out without fussing with all of the bags to get it back in, but I found that's not an issue if I leave the bag in the box and just remove some of the spice with a measuring spoon. I put the remaining big spice containers in our downstairs pantry area to get them out of the way. I say "downstairs pantry," but really it's just a couple of Gorilla Racks
in our basement.
Looks neater, right? Below the cabinet you can see the top of my microwave oven with boxes of reusable hard plastic food cups, baran food dividers, and cutters of various shapes and sizes (shown in my earlier post on organizing bento accessories). When you remove the front two boxes with whole spices, you've got easy access to the back part of the cabinet with the ground and barbecue spice boxes.
I've actually been able to maintain this in the month since reorganizing the kitchen, so this portion of the kitchen reorganization gets a thumbs up from me. My husband is quite happy with the labels on the boxes and trays, which means I haven't heard the familiar, "Honey, where can I find the …" ever since!
Have you done a kitchen reorganization lately? What's your favorite tip? Share it with us in comments!
(EDIT: Lydia of The Perfect Pantry runs a regular "Other People's Pantries" event on her excellent blog; I should submit this to her.)
FURTHER READING: