Packing cupcakes and BlogHer '08

This weekend I was wracking my brain trying to come up with a way to make a write-up of the 2008 BlogHer blogging conference relevant to packed lunches, and it finally came together on the last day. After the food blogger meet-up lunch on Sunday (photos below), I went shopping with Amy of Cooking with Amy at a nearby Sur la Table, where I picked up a Cup-A-Cake cupcake holder
for securely packing a single cupcake with your lunch. The Cup-a-Cake container has little plastic teeth inside to hold the cupcake stable and preserve any frosting decorations.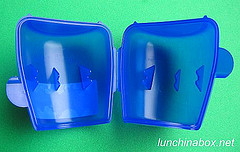 I recently recommended this to a mom at Bug's preschool whose son is allergic to basically everything (eggs, wheat, soy, dairy, peanuts, etc.) as a way to send along a special treat to the kids' parties, so they don't feel bad about being the only one not eating birthday cake or cupcakes. I'm sure parents of food-allergic kids already know the trick of making and freezing a batch of unfrosted cupcakes to pull out one at a time for just this sort of thing, but packing a frosted cupcake so that the decorations don't get stuck to the lid or plastic wrap is a sticky problem. I picked up the Cup-a-Cake for US$3 at Sur la Table, but have also seen them at Williams Sonoma, Amazon, and other stores in different colors. The company's website has online sales as well as a retail store locator along the lines of my Bento Store Locator. Do you have a clever way of sending along a single cupcake? Let us know in comments! (Disclaimer: I have no commercial affiliations with Cup-A-Cake.)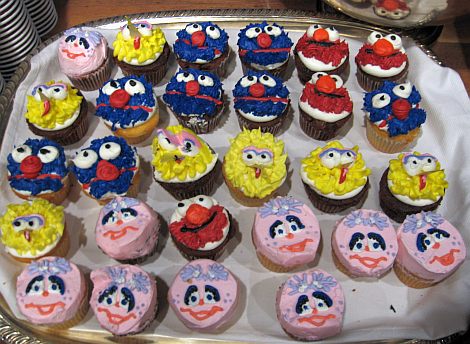 Above is a photo of some whimsical Sesame Street cupcakes that were at the Sesame Street sponsor room at the conference. Impressive! I thought about taking one home for Bug, but hadn't yet bought the Cup-A-Cake holder so I passed. (Read on for my full BlogHer conference round-up with photos.)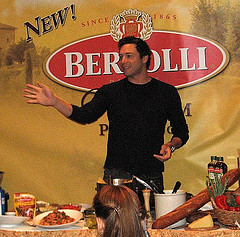 I was invited to a lunch with celebrity chef Rocco DiSpirito, where he managed to charm and engage the audience while flacking for Bertolli pasta sauce. The pasta sauces tasted fine, but weren't particularly remarkable. I'd doctor them with freshly sauteed vegetables to serve with pasta, or use as a base ingredient when cooking something else to speed things up. People at the lunch were given his new cookbook Rocco's Real-Life Recipes
, about making easy dishes with a judicious mix of fresh and prepared/convenience foods (sounds like my speedy weekday approach). Midway through, I got a phone call from a national newspaper doing an article on bento-style lunches, so I wound up saying, "Oh, I'm at a lunch with Rocco DiSpirito, could I call you back in an hour?" Yes, my one brush with a celebrity chef turned me into a name dropper. Somebody smack me. (Click any photo for a larger view.)
Other personal highlights of the conference included:
The food blogger Birds of a Feather session on the first morning, allowing us all to put faces to names right away and then seek each other out over the next few days of the conference.

I was surprised that people beyond the bento crowd were familiar with Lunch in a Box. Kudos to Kalyn of Kalyn's Kitchen for running the session, neatly reining in the PR folks who tried to use the roundtable introduction time to give an extended product and service pitch instead of the 10-word food blog description we were given as "homework."
Meeting Elise from Simply Recipes, who gave an outstanding presentation on building blog traffic that was worth the price of admission. Elise also recently launched the a standalone site for the Food Blog Search tool powered by Google Custom Search, with over 2000 food blogs. Plug your search term into the box and get results only from food blogs, not from corporate websites or other random sources. There are instructions at www.FoodBlogSearch.com on how to get your food blog included. Great idea, and thanks for the mug, Elise!
Unrelated to food and blogging, but as a Bigfoot Woman (hence the "Biggie" nickname) I experienced a kind of nirvana at the Macy's party when the store folks responded to my question about big shoes by ushering me into the back storeroom to the wall of size 11′s and assigning a personal salesperson. Honestly, it's no fun looking at cute tiny shoes on display when you have to assume nothing's available in your size. To share the wealth, I went around the party approaching all the tall women and asking if they'd like to join my expedition to the wall of 11′s in the back. Six of us including Rhi, Wifey, and Mocha Momma wound up having our own private party in the storeroom, walking out with eight pairs of cute shoes between us. This was the first time I'd ever been shoe shopping with other Bigfoot Women besides my sister. Yay!
And of course, there was the more leisurely San Francisco food blogger meet-up organized by Amy and Kalyn. This was a relaxed ending to the weekend, and I came out feeling part of a larger food blogger community. Interesting group of people there; in addition to the folks pictured below, I was also tickled to meet Claire of Cookthink, Anna from Cookie Madness, Simona of Briciole, and Christine from Christine Cooks. At the conference itself, it was great to meet Gwendomama of Gwendobento, Lydia of The Perfect Pantry, Janice of Meal Makeover Moms, and Shuna of Eggbeater, who was in this week's New York Times Magazine article about raspberry flummery.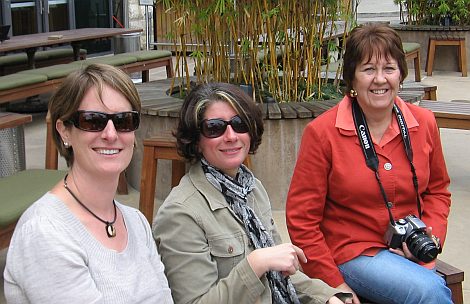 Left to right, here's Gudrun of Kitchen Gadget Girl, Kristin of Offbeat Eating, and Kalyn (benevolent matriarch of the food blogger community). I think some people at the conference mistook Gudrun and me for one another — I got some comments referencing conversations I'd never had. Hey, another tall Gadget Girl!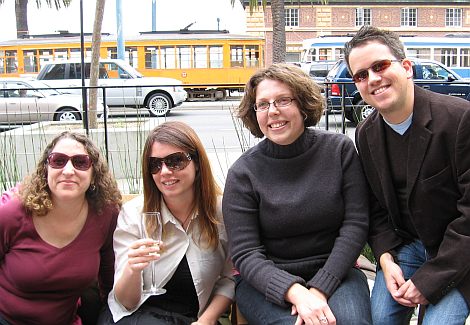 The local SF blogger contingent included Amy of Cooking with Amy, Sam of Becks & Posh, Jen of Life Begins at 30, (see her interesting post on whether eating locally is possible with ethnic food) and Sean of Hedonia. I wound up at a lot of the same conference sessions as Amy, who provided amusing commentary throughout.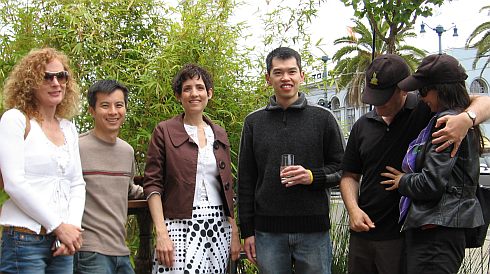 Last but not least are Lynda of Taste Food, Ed of Is it EDible?, Susan of Food Blogga, Chuck of Sunday Nite Dinner and Food Gawker, and a fabulously anonymous couple behind Bunrab.
Other food blog write-ups of BlogHer '08
Kalyn's Kitchen's master conference summary with lots of photos
Cookie Madness on the food blogger meet-up

Kitchen Gadget Girl's list of the favorite kitchen gadgets of everyone at the lunch meet-up

Bunrab on the food blogger meet-up

Jennifer Jeffrey's recaps of BlogHer Day 1 and BlogHer Day 2


The Inadvertent Gardner on the conference

Kalyn's list of Food Bloggers at BlogHer 2008
Further reading on Lunch in a Box: