Newsweek: Are bento lunches a trend?
Are bento lunches becoming a trend in the U.S.? I think we're starting to see indications of that, as shown by this article in Newsweek magazine about bento boxes for the preschool set.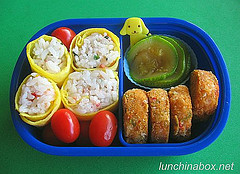 Newsweek contacted me a few weeks ago to discuss the growing popularity of bento box lunches in the United States. They wound up running a photo of this bento lunch for my three-year-old, who attends a Japanese immersion preschool in San Francisco where bentos are the norm (click for the lunch's full contents, packing details, and speed tips). On the spectrum of kyaraben food art to Lunchables or PB&J sandwiches in plastic baggies, hopefully my everyday speed bentos fall right in the middle (ideally made in under 10-15 minutes, but still appealing).
The article gave some online stores for bento gear, and summarized the Japanese nutritional "Spinning Top" and bento packing guidelines described in my guide to choosing the right size bento box. (One minor nit: traditionally a bento has one part protein, not one part "meat" as written in the article. You know, Japan being an island nation with lots of fish and tofu and all.)
Anyway, while I definitely see elements of the overall picture, I'm not sure if they're sufficient to anoint bentos as a new trend. Maybe it just feels like the start of a bento boom because I'm in the middle of it. Am I delusional? Here's my split-personality argument weighing if bento lunches are becoming significantly more popular in the U.S…
The case for:
Google Trends shows steady growth in the popularity of "bento box" as a search term over the past three years, with U.S. searches approximately doubling since the start of their data in 2006.
Lunch in a Box's web traffic has tripled over the past year, with over 370,000 page views and 70,000 absolute unique visitors a month. 75% of my readers are in the U.S., with the top three states being California, New York, and… Texas! (source: Google Analytics)
A Lexis-Nexis search for news stories with the word "bento" within 15 words of the word "lunch" in "All U.S. News (Papers and Wires)" turns up 214 results over the last 12 months (June 1 to May 31), as opposed to 178 in the previous 12, and 133 in the 12 months prior to that. (Thanks to my journalist husband's Nexis account for this search!) (UPDATE: See the Press and Awards page for articles mentioning Lunch in a Box.)
Yesterday I called the store manager at Ichiban Kan discount store (Rumi), to let her know the store was included in the Newsweek article. She told me that bento boxes and accessories were far and away the most popular items in their online store (ships only within the continental U.S.), so much so that they're having trouble keeping enough in stock for their retail stores in the San Francisco Bay Area. Knowing that the store regularly gets in big shipping containers of inventory direct from Japan makes their problem keeping up with bento demand particularly striking to me.
Lots of new bento-focused blogs have started up over the past year, listed pretty comprehensively on my Lunch Links page. I've definitely noticed an increase in specialty bento blogs, especially those for weight loss, food allergies, vegetarianism, veganism, and children's school lunches.
The cynic's view:
Are there more hard numbers? Does

J-Lis

t or Daiso (Japanese discount store with branches worldwide) have a breakdown of bento gear sales in the U.S.? (No idea.)
Isn't the increase in bento blogging just reflective of the increased popularity of blogging overall?
Yeah, so there's an increase in bento-making, but it's still a minority of lunch-packers, isn't it? Don't bento lunches have to be filled with Japanese food and rice? (Not if you approach them like I do. See most of my lunches for world food bentos.)
I'm sorry lady, you're out of your mind if you think my friends and I are going to spend a lot of time making Decorative Food like apple rabbits every day. We're too busy to be Martha. (Join the club. Make an everyday speed bento in 5 minutes, using leftovers, Leftover Remakes, freezing tricks, and smart pantry choices. Save the fancy stuff for a birthday lunch or special event.)
I know that it feels like a trend to me, but the jury's still out. What about you? Have you seen any evidence that bentos are becoming more popular at your school, at work, or with your friends? Do you have a business that's experienced a boom in bento sales over the past year? Or are we bento-packers just starting to attract attention disproportionate to our numbers? Tell us what you think in comments, or e-mail me privately at lunchinabox AT gmail DOT com if you don't want to post publicly (I keep confidences). I confess, I'm really curious about your experiences!
FURTHER READING: