Online stores for bento gear
Although fancy bento boxes and cute accessories from Japan aren't at all necessary to pack a bento-style lunch, once you get into it you might develop a hankering for them. If you can't find what you're looking for at local stores using the worldwide Bento Store Locator map with user-generated store feedback, you might want to look into online sources. To this end, I've put together a list of online stores that stock a variety of bento gear.
The list below is not exhaustive, but please leave a comment with info to add reliable stores or update the shipping area on an existing store. Eventually I hope to incorporate these online store listings into the geographic Bento Store Locator (BSL) so that people can easily leave feedback on each store entry. Stores that seem particularly popular are underlined, but be sure to look around for the best price before you buy (I've seen some pretty steep mark-ups out there, especially on eBay!). This is not a particular endorsement of any of the following stores, although stores marked with an asterisk are affiliate links that support Lunch in a Box at no additional cost when you use them to shop. (Read on for the full list of online bento stores.)

Online Stores for Bento Gear

International Shipping:
Bento Crazy: Boxes, accessories, cutters, molds, etc. Located in Japan, but international shipping. See also the store's blog for product spotlights.
CasaBento: Large bento store with a wide variety of unusual boxes and accessories. Multilingual website in English, French & German (click on the flags under "Langues" on the right) (disclosure: CasaBento.com is an advertiser on Lunch in a Box)
From Japan With Love: Bento boxes, bags, accessories and other kitchen gear from Japan.
I Love Obento: Bento boxes, bags, accessories, books, etc. Worldwide shipping

J-Lis

t*: bento boxes, accessories, bento books & cookbooks, and assorted odd items from Japan. Click for their bento-related items on J-Box. (J-Box is their PG-rated site, J-List is their R-rated site.)


Japan Centre

: The Japan Centre online store in the U.K. has expanded their inventory of cheap Daiso goods, including a selection of bento gear for £1.49 and up (egg molds, bento boxes, sauce containers, picks, bento belts, food dividers, bags, chopsticks, disposable oshibori hand towels, onigiri rice molds, etc.). They ship non-perishable goods throughout Europe (see their delivery info page), so Europeans might want to check that out.
Lunchboxes.com*: Thermal food jars, drink containers, insulated lunch bags & totes, and standard lunch boxes (good kids' selection).
Reusable Bags*: Laptop Lunchbox & sets, Sigg bento-style aluminum boxes, and To-Go Ware bamboo utensils.
Shop Japanese-language auctions and online stores such as Rakuten and Yahoo! Japan with assistance from the services described on this page.
US Shipping:
Asian Utensils: cooking tools and cookbooks

Amazon

*: thermal lunch jars, bento boxes, insulated lunch bags, cooking and decorating equipment, and cookbooks. See the Lunch in a Box Amazon store for Biggie's lunch-packing picks.
Daiso Japan online Japanese discount store: Handles BULK ORDERS ONLY, so this is better for resellers or stores wanting to add bento items to their existing offerings. Excellent selection of cheap bento gear from Japan, with most items retailing for US$1.50.
Ichiban Kan has closed its online store until further notice, although its retail locations in the SF Bay Area remain open. RIP Ichiban Kan online!

Ichiban Kan online Japanese-style discount store

: cheap bento gear and Japanese household goods; see my guide to their products for the lunch packer.
Laptop Lunches: Americanized bento boxes (Laptop Lunchboxes) and accessories
Lock & Lock (US sales through Heritage Mint and eLock&Lock)
Lunchsense: Lock & Lock lunch kits in insulated lunch bags that fold out into placemats
ShopKawaii: Store specializing in "cute", with character bento boxes, utensils and lunch bags. Link is to the Housewares section.
Snapware: plain bento-style food containers, including tempered glass containers that can double as microwave-safe bento boxes

Sugarcharms

: well-priced bento boxes, accessories and tools
eBay Stores with International Shipping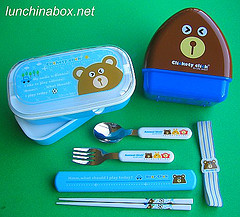 Canada:
Southampton Creations*: bento accessories
Hong Kong:
Bento Delicious

*:

bento boxes, accessories & tools

Lee262Gadget*: children's cartoon character bento boxes, accessories

Japan:
Bentos and Beyond*: bento boxes, accessories and tools
Nagomi, Inc*: bento boxes, accessories and tools
Sakura Zakka Shop*: bento boxes, accessories & tools
Store In Japan*: bento boxes, accessories and tools
Tokyo Gift*: bento boxes, accessories and tools
USA:
Bento Obento Shop*: bento boxes, accessories and tools from the creator of the BentoTV video bento blog
Kawaii Kewpie Store*: some bento boxes, accessories and tools
Kitty Corner*: better-quality bento boxes
All

bento-related items on eBay

*
FURTHER READING: