Review: Cheap lunch containers at Target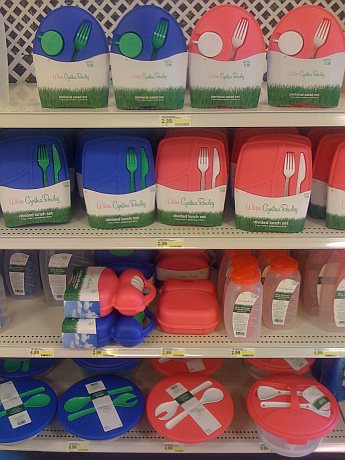 Reader "K" gave me a heads up that Target now stocks cheap lunch containers in their seasonal section in the front of the store, so I popped by and picked up a couple to try out over the weekend.
Part of the Whim by Cynthia Rowley collection made by the Israeli Bramli Company, these plastic US$2.99 containers are definitely the right price, and come in colorful pink and blue. I picked up two versions that I thought bento-packers might be interested in: the Divided Lunch Set (in blue) and the Personal Salad Set (in pink). They do have pros and cons, though… (Read on for the full product review.)
The Divided Lunch Set has a plastic knife and fork built into the lid, and has three divided sections: one large 480ml section and two smaller 280ml and 240ml sections. (I measured these with the water method described in my guide to choosing the right size bento box.) With a total capacity of 1000ml, this is the right size for someone with a large appetite or a normal adult packing less calorically dense foods such as salads or a sandwich. I filled it with water, fastened the lid on, and quickly discovered its major drawback — water poured out freely from under the lid. So if you wind up getting this container, beware of the loose lid and avoid packing liquidy foods (or pack liquidy foods in a separate lidded condiment cup like the ones I used for fruit jello cups). The lid stuck a bit when I tried to remove it; this may be a bit tricky for a child, but an adult should be able to manage it just fine.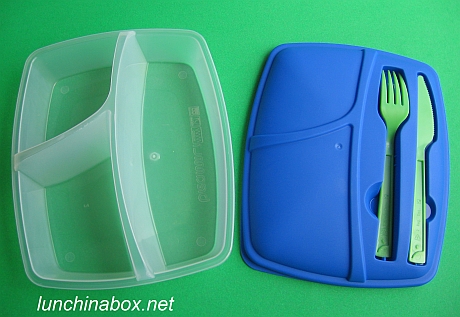 It's marked as being safe for the dishwasher and microwave (vent before microwaving), but I wasn't able to find any information on what kind of plastic it's made of. Given the recent hubbub about bisphenol A (BPA), this makes me a bit anxious… If you intend to microwave your lunch in its container and are concerned about plastics, consider tempered glass bento boxes that I reviewed earlier. Ichiban Kan now stocks GlassLock boxes at reasonable prices, with a multiple-item set available in their retail stores.
If you're looking for a no-frills watertight container, check out the excellent Lock & Lock food container line instead (U.S. online store here). Their lids have four locking flaps that are absolutely watertight and stand up to whatever abuse you throw at them (dishwasher, microwave, etc.). I've used Lock & Lock boxes for years with no problems, and their lids are even easy enough for a three-year-old to open without help.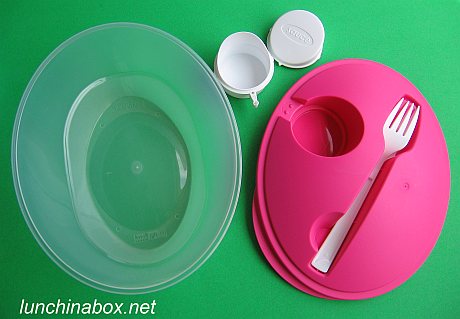 The 1250ml Personal Salad Set from Target has the same lid issue: it's not watertight at all. Experienced lunch packers know not to pre-dress a salad hours before eating, as this causes the greens to wilt during transit. A small dressing container snaps down into the lid to keep dressing separate, and is secure enough to keep the dressing from leaking even when shaken. The dressing container is very easy to remove, but falls right out if the container is turned upside down. The fork is very easily removed — points for that. But the large lid to the main container itself is tricky to remove; be careful or you might get a lapful of salad. Because there's no built-in ice pack, you might want to pack this inside of a larger insulated lunch bag with an ice pack to keep your greens crisp and fresh, especially in hot weather.
This reminded me of a bulky Fit & Fresh Salad Shaker
that I bought a couple of years back, with a cool lid with built-in ice pack, little plastic fork and spoon, and dressing dispenser. Although the lid was secure and pretty easy to remove, I found this container to be better in concept than in practice. The dressing dispenser sticks and is difficult to turn, and after only two uses the bottom cap of the dressing dispenser no longer stays on. All in all, not a good use of the US$10 I spent on it at Bed, Bath & Beyond. (Don't even get me started on the faulty ice ring in the Fit & Fresh Soup & Salad Set that broke after one use.) (Disclaimer: I have no commercial affiliations with any of the companies mentioned here.)
Have you found a salad container or cheap lunch container you like that's widely available? Tell us about it in comments!
FURTHER READING ON LUNCH IN A BOX: