Speed tip: Make individual portions in freezer bags
Although it might be nice if I were organized enough to plan out all of our dinners and my son's bento lunches in advance, that's never going to happen — not my style. I operate from more of the spur-of-the-moment approach to cooking, so it's essential to have a well stocked freezer and pantry. One drawback, though, is that if I've frozen food in big blocks, I can't use just a bit quickly without defrosting the whole thing.
Enter my Japanese-language freezing books. A standard tip for freezing ground foods or thick sauces in small portions is to first put the food into a large freezer bag and press it out as flat as possible, eliminating air pockets. (Making it thin speeds up defrost time due to the increased surface area, and pressing out excess air guards against freezer burn.) Use a long chopstick or ruler to create divisions within the food, forming individual portions. This way when you freeze the entire bag, you'll be able to quickly break off just as much as you want to use, no more.
Because you're touching the freezer bag and not the meat directly when flattening it out, your hands don't get messy, and the food and work surface stay clean. You also reduce the waste that would be generated by individually wrapping each little serving in plastic wrap. This freezing technique isn't limited to ground meat, though. Think thick pasta sauces, mashed or pureed fruit or vegetables, cooked meat soboro, rice, fried rice, cookie dough, etc.
(Read on for variations and space-saving storage hints.)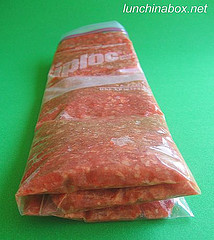 You don't need a big flat open space in your freezer for this, either. Just fold the freezer bag into thirds and slide it into what available space you do have. The ideal defrosting method is to pop the individual frozen portion into the refrigerator and let it defrost naturally, but if you're in a hurry you can put it in the microwave on the Defrost setting, or put it into a smaller freezer bag in a bowl in the sink with cold water, turning the running water to a mere dribble once the food is immersed. Convection from the moving water speeds defrost time without hot spots that a microwave can produce (thanks Alton Brown
!).
VARIATIONS:
If you're feeling industrious, season ground meat and make it into meatloaf mix or gyoza dumpling filling before freezing. After defrosting, form it into whatever shape you like: meatballs, mini hamburger patties, pressed around a popsicle stick for mini kebabs, etc. You can also form the meat mixture into shapes before freezing, but this increases your pre-freezing prep time (a mental obstacle for me).
If you've preseasoned the meat before freezing, it's easy to make other dishes with this — press it into halved bell peppers and fry, make into patties topped with a slice of renkon lotus root and fry, etc.
Freeze thick pasta sauces (meat sauce, thick vegetable sauces), and use either as is on pasta, or in a gratin, part of a dumpling filling, etc. (Thin pasta sauces and stock do well frozen in ice cube trays, then transferred to a large freezer bag for longer term storage.)
One hilarious tip from "Reitou Teku & Setsuyaku Recipe" (Freezing Techniques and Frugal Recipes) is to put individual meatballs into the long, skinny plastic bags used in Japan for umbrellas. You know — the disposable bags that you see at entrances to Japanese hotels, department stores and supermarkets for covering your wet umbrella while you're inside (like an umbrella condom). The book shows meatballs or little patties lined up inside the narrow plastic bag, which is twisted or knotted between each meatball and knotted at each end (for parents: like diapers in a Diaper Genie bag). Use scissors to snip off as many meatballs as you like. This cracks me up, but I confess to being tempted to snag a few extra umbrella bags from Nijiya when I was shopping in San Francisco's Japantown on a rainy day (store info in my San Francisco Bay Area shopping guide to bento gear or guide to ethnic markets). I'm not sure if the plastic used to make these bags is food-safe, though, so I just mention it as a funny alternative.
EDIT: Welcome to those of you who found your way here from recent write-ups in Boing Boing, Lifehacker, Neatorama, Slashfood, Serious Eats and Stumble Upon! Please have a look at the Bento FAQ, feel free to ask questions or comment even on old entries, and accept my apologies for some lingering issues from the site's being hacked last month (some character encoding is still wonky). Everything should be back to normal soon.
RELATED POSTS ON LUNCH IN A BOX:
Subscribe to Lunch in a Box by e-mail updates or via RSS feed