Lamb & spaghetti squash bento dinners
It's been a really topsy turvy month around here! First the website was hacked (boo), then my bulk freezing tip went viral with write-ups all over (yay!). In the latest of the ups and downs, on Tuesday my computer bag was stolen from behind a store counter where I had checked it as per store policy. Mercifully, my computer wasn't inside, but my checkbook and digital camera were (along with photos of lunches from the past few days). Filing police reports and doing paperwork is a pain, but upon reflection it could have been so much worse — I had my wallet, phone and car keys on me so Bug and I were able to drive home afterwards with minimal inconvenience. We dodged a bullet! I picked up a replacement camera on Wednesday, so the blog will go on.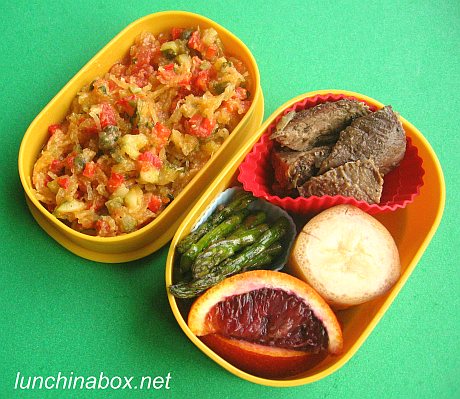 Today I'm going back to some small bento dinners that I made for my husband and I to take to our running club last month, to supplement the snacks served after our run. According to the bento box size guidelines, they're both too small for adults on their own. They're filled with things that my three-year-old had previously rejected at dinner, so I packed a plain sandwich bento for him (not shown).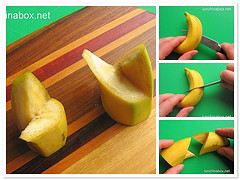 Contents of my bento dinner: "Confetti spaghetti" (roasted spaghetti squash with sauteed red bell pepper and zucchini, recipe from Kitchen Playdates), Moroccan-spiced grilled lamb (recipe from Steve Raichlen's The Barbecue! Bible
, my husband also made the same dish last year for this lamb lunch). Roasted asparagus, Moro blood orange and a banana segment round out the meal. Because the banana was just for myself, I didn't bother cutting it into decorative banana wedges.
Afternoon prep time: 5 minutes, using all dinner leftovers. In the afternoon I cut the fruit, and microwaved the meat and squash to take the chill off. (Read on for an additional lunch, details, and a cookbook review.)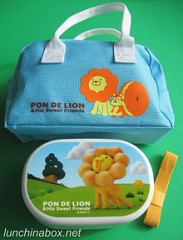 Packing: When eating the lamb at dinner, we served it with tiny salt dishes filled with a cumin/salt mixture to dip it in for just a little extra oomph. To get a similar effect in a bento box, I sprinkled a little of the cumin & salt over the lamb before packing — heavier spicing is helpful when you're eating foods at room temperature (see my earlier post on cold vs. hot lunch packing considerations). The lamb and asparagus went into reusable silicone baking cups, and the lunch went into a 2-tier 465ml Pon de Lion limited edition bento box from the Mister Donut chain in Japan.
Verdict: Upon reflection, the squash dish wasn't really well suited to eating at room temperature because the brown butter used in the dish solidifies when cold. I had heated it up prior to packing and it wasn't sitting for long before I ate it, but it still wasn't ideal (d'oh!). Substituting a vinaigrette for the brown butter and lemon juice would have given a similar flavor without the unfortunate textural issue.
Cookbook: This was the first recipe I tried from Kitchen Playdates: Easy Ideas for Entertaining That Include the Kids. Kitchen Playdates is a glossy book by Laura Bank Deen, a former producer of Martha Stewart Living Television, with recipes for Californian-style adult food that I'd probably make anyway. The child-friendly twist is the notes on each recipe with ideas for how your children can help with the prep, customized for both older and younger children. I like the premise of this book — that you can involve your kids in the kitchen for regular meals or as an all-out activity, making it fun for everyone involved. It's helped me think of new ways to get my three-year-old involved in our cooking — he's at the age where he really wants to help and be with me, so I should enjoy it while it lasts, right?
Bug enjoyed using a fork to tease the spaghetti-like strands out of the roasted spaghetti squash, although something about the finished dish didn't appeal to him at dinner and he gave it the thumbs down. My theory is that by having him help with food prep, he'll be more open-minded about food and less likely to become a picky eater (see my post on bentos & the picky eater).
* * * * *
My husband's snack bento has the same thing as mine, just packed without silicone baking cups in a single 350ml subdivided box from an insulated Lock & Lock lunch set.
FURTHER READING ON LUNCH IN A BOX: