Shopping and conference odds and ends
A few updates today on online bento shopping, bento gear in Europe, conferences I'll be attending, and something that annoyed me this week.
* Ichiban Kan: Online poll and delay in restocking bento gear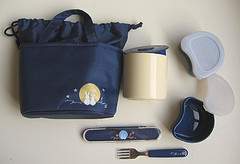 The Ichiban Kan blog is running an online poll to help them decide whether to stock thermal bento sets like this one that I use regularly. The poll closes at 3:00 pm Pacific Time today (Wednesday, April 30, 2008), so click over there if you'd like to weigh in, or leave a comment at their blog post about the thermal bento sets if you're too late for the poll. (Sorry about the late notice!) Ichiban Kan is a Japanese-style discount store with branches in the SF Bay Area and a new online store with cheap bento gear. See my full review of their online store, or get info on their local stores in my San Francisco Bay Area shopping guide for bento gear.
Speaking of Ichiban Kan, they're evidently experiencing a delay in restocking their bento inventory as their big shipping container from Japan has been delayed by U.S. Customs. The delay may last for another three weeks or so; stay up to date via their blog or online store. Their blog now offers the ability to receive e-mail updates via Feedburner; fill out the info in the upper right corner of their blog to get their latest in your e-mail box. (You can do the same here, by the way — click to get Feedburner e-mails with the latest Lunch in a Box posts.) (Read on for European bento shopping update, conferences I'll be attending at, and something that irritated me.)
* Daiso bento gear available in Europe via Japan Centre
The Japan Centre online store in the U.K. has expanded their inventory of cheap Daiso goods, including a selection of bento gear for £1.49 and up (egg molds, bento boxes, sauce containers, picks, bento belts, food dividers, bags, chopsticks, disposable oshibori hand towels, onigiri rice molds, etc.). They ship non-perishable goods throughout Europe (see their delivery info page), so Europeans might want to check that out.
* Conferences I'll be attending
I'll be attending the BlogHer '08 Conference in San Francisco July 18-20. My current fear is that I'll turn up unprepared and not be properly familiar with the blogs of people who regularly read and leave comments here. Please help me avoid looking like a jerk! If you'll be attending as well, feel free to leave a comment here with a link to your blog so that I can poke around it beforehand and keep an eye out for you at the conference.
I'm also scheduled to give a presentation about bento at Anime Milwaukee in February 2009 (brrr, cold!), but that's pretty far in the future at this point. This'll be my first time back in Wisconsin after living there in the late 1980′s, so it should be interesting for me.
* Grrr…
Something you might have noticed on my Twitter — earlier this week reader Jan gave me a heads up that a commercial website was running my bento photos without any link back or attribution, and making money off of them via ads (thanks Jan!). In fact, they even went so far as to trim out the watermarked photo credit from my photos and rewrite the entries with some of my tips, linking only to a general Wikipedia entry about bento. When I looked into it, I found that they'd done the same to about a dozen other bento makers in their "bento series", including pkoceres, Sakurako Kitsa (a.k.a. Amorette Dye, as featured in the Face Food book I reviewed), Joker Girl of Were Rabbits, Ichigo Geisha, Veggie Kitty, Japanese kyaraben contest winners, and even Susan V over at noted blog Fatfree Vegan! I alerted the folks whose bentos I was able to identify and had the website remove my photos, but it left a bad taste in my mouth.
As Susan V commented to me, good bloggers create their own content with cameras and words, and don't appreciate it when others steal that content. It's a reminder to all of us to be cool when using photos we find on the web, and check out the terms of the photo's copyright. Get permission if needed, link back to your source, and don't trim out watermarked photo credits to disguise the origins. Blech. If anyone notices my photos popping up without attribution somewhere, I'd appreciate a quick heads-up (lunchinabox AT gmail DOT com) so I can take matters up with the website as necessary. The green background makes them pretty easy to spot. Thank you!
FURTHER READING ON LUNCH IN A BOX: