Green tea zarusoba noodle "nest" bento
One drawback to packing pasta that's already coated with a liquidy sauce is that the noodles absorb the sauce over time and the texture can suffer. Take advantage of the tendency of unsauced noodles to clump together, and make little bite-sized "nests" out of cold zarusoba noodles. This allows you to easily grab a bite-sized portion and dunk it in a separate container of dipping sauce, reviving each bunch of noodles just before you eat them. The important thing is to use a truly watertight container for the dipping sauce; these earlier zarusoba lunches for adults show how thermal lunch jar innards or even GladWare can be used for the dipping sauce.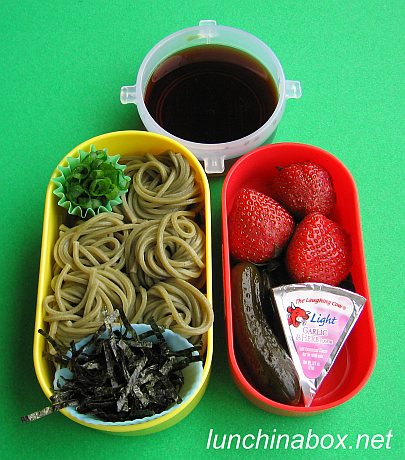 Contents of preschooler bento lunch: Green tea & spinach zarusoba noodle "nests" (Korean nockcha gooksoo noodles, similar to green tea soba noodles on Amazon), kizami nori julienned seaweed and chopped green onions for the noodle dipping sauce (soba tsuyu)
. The smaller containers have strawberries, sweet pickles, and a garlic & herb cheese triangle.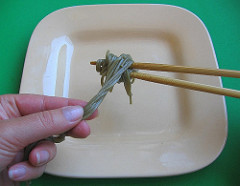 Morning prep time: 15 minutes, mostly spent boiling water for the noodles and making the little noodle nests (and my three-year-old "helped" me curl the nests, adding a few minutes). To save time, I used bottled dipping sauce instead of making my own out of dashi bonito broth, soy sauce and mirin sweetened cooking sake. Once the noodles were cooked, rinsed in cold water and drained, I curled them into bite-sized nests on chopsticks for easy eating. This also works well with somen and any other cold noodles for dipping. To make looser nests, twirl the noodles around your fingers or a fork instead of chopsticks. This whole lunch could be made ahead of time and refrigerated overnight. The noodles perk right up when swirled around in the dipping sauce. (Read on for packing details and an additional preschooler lunch.)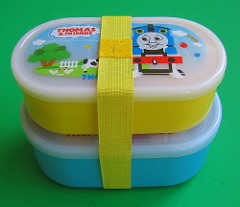 Packing: When zarusoba is eaten fresh, it's often topped with kizami nori and dipped into the tsuyu dipping sauce mixed with chopped green onions and a bit of wasabi. My three-year-old can't take the spiciness of wasabi but is okay with green onions, so I put them in a separate little paper condiment cup so that he could dump them into the sauce just before eating. (Putting the chopped green onions into the sauce hours before eating them would adversely affect their texture and give the sauce an oniony taste.) Packing the kizami nori in a reusable silicone baking cup kept it dry until Bug was ready to eat. The lunch is packed in two tiers of a 4-tier nesting and stacking Thomas the Tank Engine bento box set, and the dipping sauce went into a watertight 100ml Lock & Lock round container (be sure to use a watertight container for liquids like this — the soup container from a Mr. Bento-style thermal lunch jar
is also ideal).
Verdict: Thumbs mostly up. Bug had requested sweet pickles in the morning when I was packing his lunch, so I humored him. But when he bit into them at school he decided that they were too karai (spicy), and left them. He also dropped one of the strawberries on the floor during lunch, so thankfully he didn't eat that. He did eat a fair amount of the noodles, though, and was excited about having them in his bento after we had them for lunch over the weekend. His teacher reported being impressed that Bug was able to eat the zarusoba skillfully, putting the green onions into the sauce, topping the noodles with nori, and using chopsticks to eat the noodles. That's my boy!
* * * * *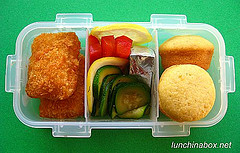 Contents of preschooler bento lunch: Fish filet, zucchini and red bell pepper with Korean barbecue sauce, lemon slices, cheese triangle, and mini cornbread muffins.

Morning prep time: 5 minutes, using frozen mini muffins I made earlier with a mix (see my mini review of the Marie Callender's mix) and the last of the frozen Akebono Nichiro fish fillets (see my earlier review). In the morning I warmed the frozen fish in the microwave, and multi-cooked the zucchini and bell peppers in my microwave mini steamer.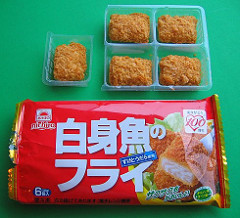 Packing: Lemon slices act as food separators that my three-year-old actually likes to suck on (ack)! The lunch is packed in a single subdivided 350ml box from an insulated Lock & Lock lunch set.
Verdict: So so. Bug ate the fish, the cheese, and half of the vegetables and mini muffins at preschool. After school he finished up everything else as a snack at the playground.
FURTHER READING ON LUNCH IN A BOX: