San Francisco Japantown bento shopping update
Recent trips to San Francisco's Japantown yielded a number of shopping updates for bento fans, encompassing Sanko housewares store, Ichiban Kan dollar store, Nijiya Market and Kinokuniya bookstore. Store details and addresses are in my updated SF Bay Area shopping guide for bento gear. I have no commercial affiliations with any of these stores.
1. Sanko Expands its Bento Offerings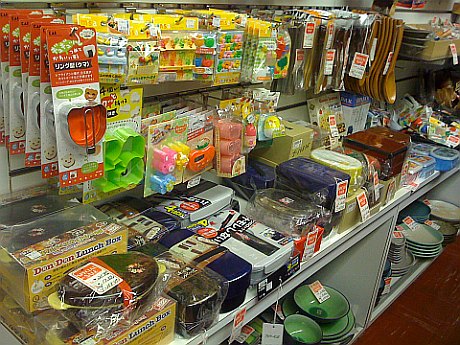 After my earlier review of Sanko's solid selection of high-quality bento boxes, evidently those of you in the area made a run on the store in search of the "Don Don Lunch Box" (a microwave-safe donburi bento box by Hakoya). Well, the owners were so impressed by the demand for unusual bento items that they've recently expanded their selection of bento accessories, and grouped all of their bento-related items together in a new section (far left corner as you walk in). Prices are not cheap, but you won't find these accessories anywhere else in San Francisco. Expect to pay five to eight dollars for any of the accessories pictured here, even with their current 10%-off Spring Sale that runs until March 23, 2008. Additional photos of their bento section are at the end of this post (photos taken with the permission of the store management). (Read on for updates on the additional stores.)
2. Ichiban Kan Stocks New Line of Clickety Click Bento Gear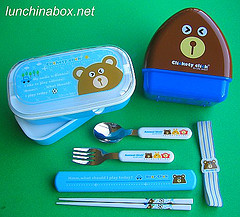 Ichiban Kan, a chain of Japanese-style dollar stores in the Bay Area, has finished filling up their spiffy new shelving units, and now stocks a line of 2-tier nesting bento boxes, utensils, elastic bento bands and kinchaku lunch bags that complement their existing selection of triangular onigiri boxes (in blue, yellow/orange, and pink). All for $1 to $1.50 each.
Reader Great Stone Face also points out that the front page for the Ichiban Kan online store is now up at www.ichibankanusa.com, although the links are not live until their April 1, 2008 launch. Keep an eye on that and their blog for updates.
3. Nijiya has Super-cute Anpanman Furikake Dispensers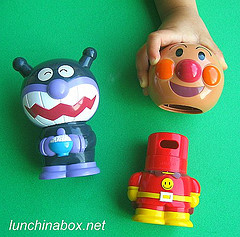 So it's not bento-related, but parents of small children might get a kick out of these cute furikake rice seasoning dispensers. Salmon-flavored furikake, a children's favorite, fills up the plastic Anpanman and Baikinman, the respective hero and villain of popular Japanese cartoon series Anpanman. Baikinman is short for "Bacteria Man", and he battles Anpanman ("Bean Paste Bun Man") who helps the starving by letting them eat part of his head. What's not to like?

My three-year-old helps out in the photo above by lifting off Anpanman's head to reveal a washable, refillable dispenser for furikake or any other loose spice. An informal poll of his Japanese immersion preschool indicates that these furikake dispensers are pretty widespread and hugely popular with the children. Bug thinks of them as toys, and wants them on the dining room table when he eats (Baikinman facing away as he's "too scary"). Each one was about $6 and came with 20g of furikake — not super-cheap, but oh so cute and fun for my son.
4. Kinokuniya Occasionally Stocks Bento Gear
I was surprised to find the Domino-chan line of student-sized two-tier bento boxes with matching cups and utensil sets for sale at the Japantown branch of Kinokuniya, a large Japanese bookstore chain. Not a big selection, but I hadn't seen these locally before. Mr. Matsuno, a manager of the Japantown branch, tells me that they don't plan to stock them on a regular basis, but they may occasionally have character-themed goods like these. If they're not in stock, the store can order them for you. If you're there, be sure to check out their Japanese-language bento cookbooks (this is where I tend to buy my speed bento cookbooks and children's bento cookbooks).
5. Additional Pictures of Sanko's New Bento Inventory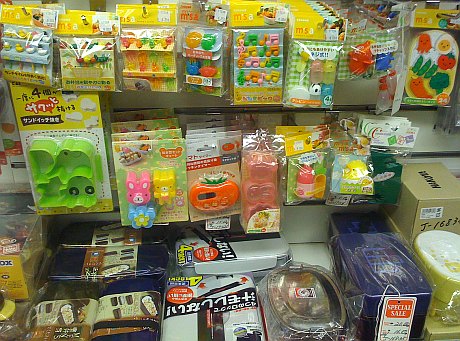 Note the green sandwich cutter on the bottom left that creates four little shaped sandwiches (similar to my dinosaur sandwich cutter, but much more expensive).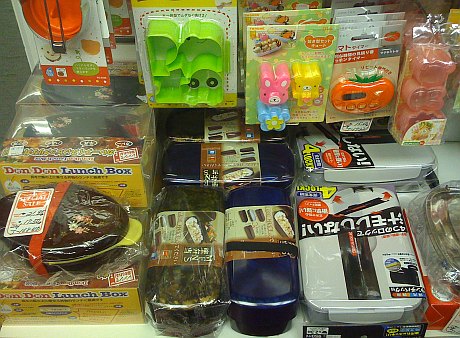 Good-quality men's bento boxes from Asvel and Hakoya (the "Don Don Lunch Box" for curries, stews and pasta is on the left).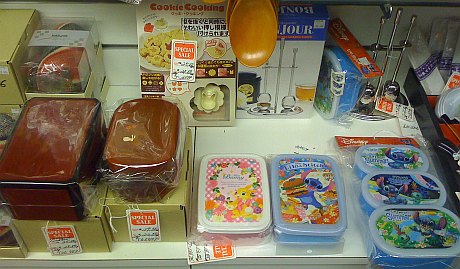 Good-quality women's bento boxes from Hakoya on the left, little character-themed bento boxes for children on the right (Lilo & Stitch).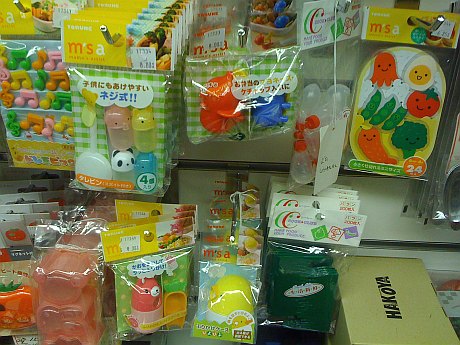 Bento accessories from m'sa (Mam's Assist) include cute furikake dispensers shaped like a bunny and a chick (bottom middle). In the top center, note the pig- and elephant-shaped containers with little paddles and secure seals for spreading thick add-ons like butter, peanut butter, etc.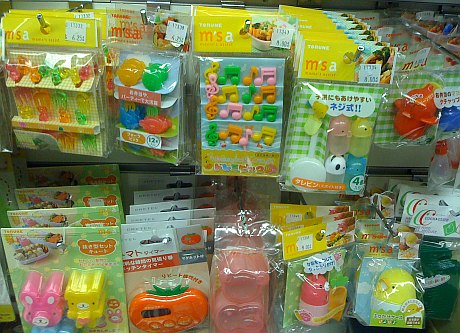 Some small food picks in the upper left, sauce containers, etc.
FURTHER READING: