How to use a donburi bento box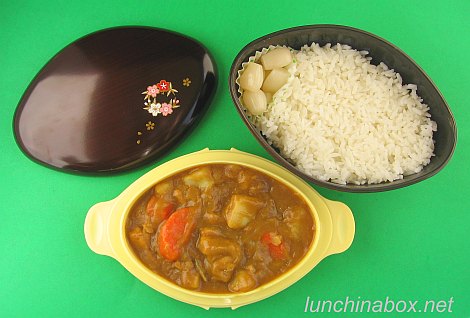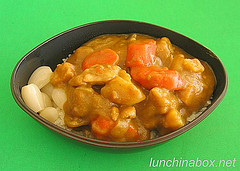 Japanese donburi is a type of meal with food served right on top of rice in an oversized bowl; examples include dishes like simmered egg and chicken (oyako-don), tempura, Japanese curry, sukiyaki, eel, etc. When making a bento lunch, though, donburi toppings with a lot of moisture tend to make the rice soggy when packed together. I've previously described the "rice lid" method where a layer of rice is packed on top of curry or stew in a thermal jar, keeping most of the rice intact and allowing the use of a thermal lunch jar's non-sealing larger rice container for liquidy foods. Another method is to pack rice totally separate from the stew or curry, and put them together just before eating, which keeps the rice from getting soggy. This is the best way provided both rice and curry are nice and warm, and your container is large enough to contain both easily. I recently picked up a microwave-safe bento box for donburi meals that's designed to address just these issues. (Click for the full review and an additional preschooler lunch.)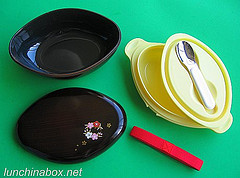 The "Don Don Lunch Box" is from Hakoya, a Japanese bento box manufacturer known for their good quality boxes and classic designs. Rice goes in the bottom half of the large bowl (holds 260ml under the top container), and liquidy stew or curry goes in the top container (200ml). The yellow curry container nestles down inside of the larger bowl, and has a tight-fitting lid to keep everything safely contained. It doesn't keep things warm, though, so use the microwave to warm both layers (unassembled) before eating (be sure to remove the inner lid before microwaving). The cool thing about a donburi bento box, though, is that the bottom bowl is large enough so that once everything is warmed, you have room to dump all of the curry right on top of the warm rice and eat it like a proper donburi. The manufacturer also recommends it for pasta, to keep the pasta sauce from soaking into the noodles during transit. If I were to pack pasta I'd be sure to first toss the noodles with some olive oil, butter or a little sauce to keep them from sticking together.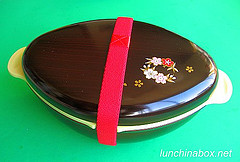 On the heels of writing about concerns surrounding microwaving plastics, I was particularly interested in how microwave-safe the container actually is. The packaging says the box is made of recyclable PET resin from Matsushita Electric Works (the same corporate group behind the Panasonic and National brands), that no dioxins will leach into food when microwaving, and it's fine from a range of temperatures from -20 to 140 deg. C (-4 to 284 deg F). Everything can be microwaved and put in the dishwasher except for the curry dish's inner lid (woo hoo for another dishwasher-safe box, saving me from more hand washing). The manufacturer notes that when you microwave food like curry, though, the inner container can take on the curry's smell and color, but that washing it well with dish soap and some bleach will remove most of the stains or odor (see more ideas for removing stains/odors from bento gear). I notice that the inner container is made of light yellow plastic so that turmeric stains from curries blend right in.
I bought the faux wood brown version on sale for $15.75 at Sanko in San Francisco's Japantown ($17.50 before their 10%-off sale that goes until Feb. 23, 2008, full store review here), but evidently the Don Don Lunch Box also comes in a reddish version and plain metallic colors (orange, white and light blue). Hakoya isn't the only company that makes donburi-specific bento boxes, though. You can find some here on eBay in red and black. (I have no commercial affiliations with Sanko, Hakoya, eBay, etc.)
* * * * *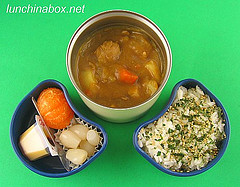 Contents of preschooler lunch: Japanese chicken curry, rice with nori-flavored furikake rice sprinkles, peeled tangerine, rakkyo pickled scallions, and a mini pudding cup.
Morning prep time: 6 minutes, using leftover curry and fresh rice made with my rice cooker with timer. In the morning I microwaved the leftover curry while pre-warming the thermal food jar with hot tap water.
Cooking: For dinner the night before, I made Japanese curry with chicken, onions, potatoes and carrots. Japanese curry is very mild, and a breeze to make using little blocks of shelf-stable Japanese curry roux
sold in Asian markets. Just brown the meat and veggies, add water and simmer for about 15 minutes, then dissolve the blocks of curry roux
in the mixture and simmer for another 5 minutes until it's nice and thick. You can make this especially fun for kids by using little cookie cutters to shape the carrots, but that's way too much work for me. Pickles such as crisp rakkyo or fukujinzuke are usually served alongside Japanese curry for a nice flavor and texture counterpoint; my three-year-old loves rakkyo and begs for them. You can find rakkyo (and curry roux) in Japanese and Korean markets, or try making your own.

Packing: I left some head room in the thermal food jar so that Bug could dump his rice on top of the curry when he was ready to eat. The rakkyo went into a coated paper baking cup that was smaller than all of my reusable silicone cups, and I peeled the tangerine to make it easier for my son to eat. Look closely at the same container and you'll see a clear plastic spoon for the mini pudding cup tucked inside. The lunch is packed in a 560ml insulated bento set from Ichiban Kan; similar sets are sold on Amazon in green
or blue
(affiliate links). You can get the same effect as these pricier sets by using a small side container and a thermal food jar , commonly available from stores like Target or Walmart.
Verdict: A home run! Bug demolished this entirely in one sitting. I thought it might be a bit too much for him according to the bento box size guidelines, but he's going through a growth spurt and has been eating unbelievable amounts of food lately. Mild Japanese curry is usually a winner with kids, and Bug's no exception.
FURTHER READING: