Menu for Hope 4
The year-end is a time for charity and awards in the food blog world, and Lunch in a Box is happy to donate a prize for Menu For Hope, now in its 4th year. Started by Pim of Chez Pim, Menu for Hope raises money for the United Nations World Food Programme, the world's largest food aid agency (last year it raised almost US$63,000 for the program!). Specifically, this year's donations will benefit the school lunch program in Lesotho, Africa. A full list of prizes is here at Chez Pim, and the Western U.S. regional prizes are all shown here at Rasa Malaysia. A mere US$10 gives you a shot at some pretty cool food-related prizes! Check them all out and see what appeals to you.
Bento lunch starter kit and tour of San Francisco's Japantown by Lunch in a Box (prize code: UW18)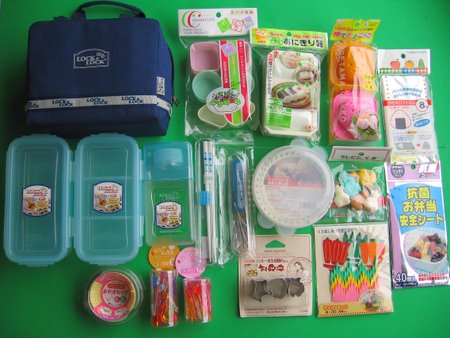 Pack your lunch in style with a complete bento set and personal tour of San Francisco's Japantown. The kit consists of a hard-to-find large Lock & Lock bento lunch set with insulated carrying case (470ml subdivided box + 470ml box + drink container), molds to make shaped hard-boiled eggs and onigiri rice balls, matching blue fork and chopsticks with their own cases, silicone baking cups, reusable plastic food cups, food dividers, mini cutters, cute food picks and sauce containers, antibacterial lunch sheets, onigiri wrappers, and a microwave mini steamer for speedy food prep. And if you live in or will be visiting San Francisco, I'll give you a personal bento tour of San Francisco's Japantown, visiting specialty stores for bento gear, food, and cookbooks. Have your own Japanese speaker show you around and translate anything you have questions about! (Continue reading for detailed photos and donation instructions.)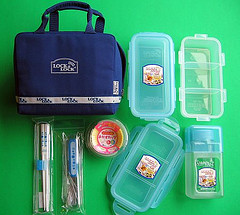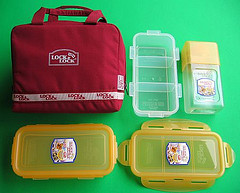 The winner will be able to choose one of the two Lock & Lock insulated bento kits shown above: blue or red/orange. (Click any photo for a larger view with notes.) The chopsticks, fork, and silicone baking cups shown on the left are included with both.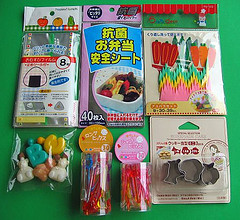 I will ship internationally if the winner lives outside the U.S., and there's no expiration date on the tour in case the winner lives outside the Bay Area but will be visiting at some point in the future. The tour is transferable if the winner won't be traveling to San Francisco.
How to donate:
1. After selecting the prizes you'd like on the West Coast list or Pim's full list, go to the donation page. Donations are managed by Firstgiving.com, an independent online fundraising company.
2. Make a donation, each $10 will give you one raffle ticket toward a prize of your choice. Please specify which prize or prizes you'd like in the 'Personal Message' section in the donation form when confirming your donation. (The Lunch in a Box bento prize is code UW18.) Do tell us how many tickets per prize, and please use the prize code -for example, a donation of $50 can be 2 tickets for AP01 and 3 for AP02.
3. For US donors, if your company has agreed to match your charity donation, please remember to check the box and fill in the information so we may claim the corporate match.
4. Please also check the box to allow us to see your email address so that we could contact you in case you win. Your email address will not be shared with anyone.
5. Check back on Chez Pim on January 9th, when the raffle results will be announced. (The drawing will be done electronically.)
Quick reminder that Lunch in a Box is up for "Best Food Blog — Theme" and "Best Food Blog — Family/Kids"categories in the 2007 Food Blog Awards! Voting closes at 11:59 pm EST on Friday, December 14th. If you enjoy this blog I'd appreciate your vote (click to vote for "Best Theme" and "Best Family/Kids" blog). Thank you!