A finalist in the 2007 Food Blog Awards!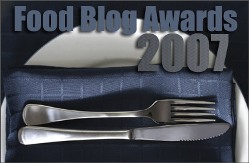 This year is coming to an end with some good news. I found out today that Lunch in a Box made the cut and is now one of the five finalists for "Best Food Blog - Theme" and "Best Food Blog - Family/Kids" categories in the respected 2007 Food Blog Awards! I'm thankful and tickled to have been nominated by readers, and then selected by an independent panel of judges for open voting (5 blogs in each of the 14 categories were chosen). Voting is now open and will last for five full days until 11:59 pm EST on Friday, December 14th. The winners of the vote will be announced on Monday, December 17th, 2007 (see complete rules here). I'm up against some heavy hitters in these categories (including The Daily Tiffin, where I'm a contributor), and am honored to be in such excellent company. On your mark, set, vote! Click to vote for "Best Food Blog - Theme" and "Best Food Blog - Family/Kids".
Belatedly, I also wanted to let everyone know that Lunch in a Box's old LiveJournal site tied with Vegan Lunchbox for third place in the 2007 Bloggers' Choice Awards for Best Food Blog, the only non-vegan blog in the top four. My sincere thanks to everyone who voted for me in the long campaign! You all rock.

2008 voting has already begun.
In other news, I've donated a bento starter kit and tour of San Francisco's Japantown to the 4th Annual Menu for Hope, to raise money for the U.N. World Food Programme. Look for more details here.