[1]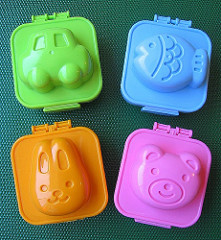 I recently touched base with Ichiban Kan, a Japanese-style dollar store chain in the San Francisco Bay Area that carries inexpensive bento lunch gear, and they tell me that the launch of their online store has been [2] delayed again. They're currently looking at opening January 2008 at the earliest, but there's no firm date, which may be part of the problem. I wish I had better news for people in the U.S. looking for specialty Japanese bento gear at dollar-store prices without shipping — maybe cross your fingers that a [3] Daiso opens near you! Remember, too, that you can repurpose everyday items in a bento context [4] by being creative.
As I wrote in the [5] Bay Area bento gear shopping guide, Ichiban Kan is a good bargain store with a changing selection of matching bento boxes, insulated bento sets, bento accessories, collapsible sandwich cases, bento bags (kinchaku, insulated bags), egg molds (2 for US$1.50), rice molds, character bento goods (Cinnamoroll, Hello Kitty, Shinkansen, Pokemon), cute food cups, chopsticks and utensils with cases, etc. Most products are US$1 to $1.50 in the store. Last week the Japantown branch was out of egg molds and insulated bento sets, but they did have a new line of sleek, stackable black boxes with matching bento bands, chopsticks and case, two kinds of kinchaku lunch bags, etc. It's a suitably masculine line that men won't be embarrassed by. (Disclaimer: I have no affiliation with Ichiban Kan, I'm just a fan.)
A Round of Thanks:
I'm tickled to have been tagged with the "Be the Blog" award from JD at the humorous [6] I Do Things So You Don't Have To.
[7]
Award creator [8] MeAndMyDrum describes what it means to "Be the Blog":
[it] really sums up what a successful blogger does. And what I mean by successful is that they make it their own, stay with it, are interactive with their readers, and just plain have fun.
Well, thanks, JD! I'm having a great time doing my thing here — it somehow brings together things that I'm passionate about: family, food and cooking, Japanese, writing, and finding ways to make my life easier. Packing lunches shouldn't have to be a depressing obligation with the same old foods every day, and a bento lunch doesn't need to be filled with all Japanese food or time-consuming [9] food art to be "authentic".
I'm passing this on to my friend Cenk at [10] Cafe Fernando, whose mouth-watering photos and recipes for baked goods and Turkish food just knock me out. His creations and blog itself are things of beauty, and I have him and a few of his friends to thank for turning me on to Turkish food when he lived in San Francisco. Cenk, you ARE the blog!
I'd also like to mention that the respected [11] 2007 Food Blog Awards are now accepting nominations, and anyone can nominate their favorite food blogs [12] here in 14 categories. Nominations end on December 5th, at which point the top five blogs in each category will be determined by a [13] panel of judges and then opened up to public voting for a one week period. Thanks to [14] Habeas Brulee and reader Anna for nominating this blog in some different categories!
FURTHER READING: