Weekly kid bento round-up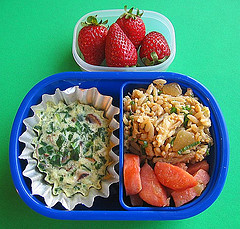 Contents of Wednesday preschooler bento lunch: Mini frittata with spinach and mushrooms (recipe and tutorial here), fried rice, pineapple sausage, and organic strawberries. On the advice of Consumer Reports, I do make an effort to buy organic strawberries and spinach for Bug as they're on the "dirty dozen" list of fruits and vegetables with the highest levels of residual pesticides (see their article "When buying organic pays (and doesn't)").

Morning prep time: 13 minutes, using leftover fried rice. In the morning I quickly nuked the sliced sausage and made the speedy stovetop mini frittata in an extra-thick foil baking cup (or you can just double up two regular foil baking cups for the same effect). For the mini frittata, just saute or microwave some spinach and a sliced mushroom first, combine with the egg, and cook, adding splash of water to the pan before covering so steam speeds up the cooking of the top. (Click any photo for a larger view.)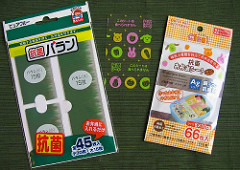 Packing: I nestled the sausage down next to the fried rice without a food divider as the flavors are complimentary and Bug doesn't mind. I was concerned that the fried rice might jump the divider and spill onto the frittata, though, so I laid an antibacterial bento sheet right on top of the rice and sausage half to keep everything in place. I described these little antibacterial sheets in my post on bento lunch food safety; they've got a flavorless wasabi-based coating that retards bacterial grown on food that it touches directly. Lunch packed in a 360ml Disney Cars bento box with one sub-container removed.
Verdict: Huge success. Bug polished off everything at preschool, no leftovers.
Contents of Thursday preschooler bento lunch: Pork asado siopao (Filipino version three times the size of baozi Chinese steamed buns or mantou), grapes, grape tomatoes, and zucchini and mushrooms tossed in bottled Korean barbecue sauce.
Morning prep time: 8 minutes, using frozen siopao. In the morning I microwaved the siopao and then the zucchini/mushrooms in my microwave steamer.
Packing: I put the sauced and drained mushrooms and zucchini in a reusable silicone baking cup to keep the Korean barbecue sauce away from the tomatoes and grapes. Lunch packed in a 320ml Clickety Clack dessert container and one 280ml tier of a 4-tier Thomas the Tank Engine nesting/stacking bento box set.
Verdict: This was too large for 3-year-old Bug; he left half of the siopao and the grapes and tomatoes during school. He asked to eat the rest of the siopao after preschool, but wasn't interested in the grapes and tomatoes at all. Some days he'll gobble them up, other days not. The eating "rules" of children are ever-shifting!
READ MORE: