Delay of Ichiban Kan online store launch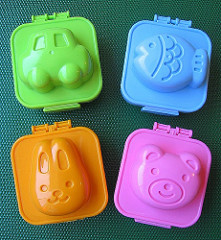 Back in July I wrote that Ichiban Kan, a Japanese-style dollar store in the San Francisco Bay Area, would be opening an online store in November 2007 that would sell inexpensive bento gear. I checked in with them today to see if they were still on schedule, and they tell me there's been a delay. They now hope to open their online store by the end of the year, but sounded tentative. More details as I get them.
As I wrote in the Bay Area bento gear shopping guide, Ichiban Kan is an excellent bargain store with an ever-changing selection of matching bento boxes, insulated bento sets, bento accessories, collapsible sandwich cases, bento bags (kinchaku, insulated bags), egg molds (2 for US$1.50), rice molds, character bento goods (Cinnamoroll, Hello Kitty, Shinkansen, Pokemon), cute food cups, chopsticks and utensils with cases, etc. Most products are US$1 to $1.50 in the store.
RELATED POSTS: