Shopping: New Daiso stores, lead-free gear
1. Daiso
Daiso, a Japanese dollar store with branches internationally, has two new stores in the SF Bay Area: Mountain View and Union City in the East Bay (EDIT: They're running behind schedule on the Mountain View branch and will open it early October — SORRY!). Daiso sells cheap bento and household goods, and the Union City branch is supposed to be even larger than the Daly City or San Jose branches! Shout out to readers Jennifer and freecia for pointing this out!
Daiso Union City
El Mercado, 1785 Decoto Rd. (next to Marina Foods, betw. Alvarado Niles Rd & Meyers Dr)
Union City, CA 94587 (510) 477-9441
17,760 sq. ft., opened Aug. 8, 2007
Daiso Mountain View
550 Showers Ave. #1, Mountain View, CA, 94040 (near El Camino and San Antonio)
(EDIT: was scheduled to open Sept. 24, 2007, but delayed until early October 2007)

Daiso has a selection of cheap bento boxes, accessories, antibacterial bento sheets and food cups, freezer containers, cooking equipment, metal bento boxes, mini microwave steamers, stovetop fish/veggie grills, home products, dishes, hobby gear, children's toys and books in Japanese, etc.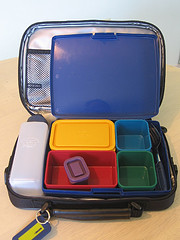 2. Reusable Bags & FAQ on lead and plastic concerns
I found a 20% off coupon for Reusable Bags; use code f70838 (case sensitive) and check out their selection of lead-free lunch gear, lunch kits, lunchboxes, reusable bottles and the lead-free Laptop Lunchbox (they ship internationally). Their FAQ on health and safety issues is helpful in learning the latest about lead and plastic concerns. (Disclaimer: The Reusable Bags links here are affiliate links; using them to get to the site when making a purchase helps support Lunch in a Box.) (Aug. 2008 Update: The f70838 code for 20% off at Reusable Bags is valid and updated, and you can also add code FREEACME (case sensitive) in the order comments section for a free Acme reusable bag on orders over US$25 (ACME Bags Workhorse Style 1501, Black Mesh).
3. Bento stores in San Diego
Sugoi Bento has put together a list of bento stores in the San Diego area, including a new Daiso over in the Marukai Marketplace.
READ MORE: