Updates: Site & shopping
1. Egg molds on sale at Williams Sonoma (price cut to US$10) and WalMart (for $5!)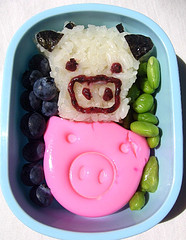 The animal-shaped ice cream sandwich molds that I jury-rigged into egg molds (and onigiri molds, cookie cutters, etc. — full info and tutorial here) are back in Williams Sonoma stores and are currently on sale for $10 (down from $14 — so no shipping charges if you have a store near you). This makes them cheaper than on Amazon! (UPDATE: The folks on the LJ bentolunch community point out that these are also available at Walmart for US$5 for two!! They have two sets: the cow and the pig, or a heart (with an "XO") and a "squircle" — square-circle.)
2. Site update
I recently fixed the blog font that has been giving some readers problems, and disabled nested comments that blocked the content for some. At this point I'll be sticking with regular-style comments (not threaded) to avoid similar compatibility issues, so if you're responding to a particular comment you'll want to call the poster out by name in your comment. Please feel free to let me know of any site issues you're experiencing either in a comment or by e-mail to lunchinabox AT gmail DOT com. (EDIT: Thanks to reader sff_corgi for the snazzy new header!!)
3. San Francisco: Ichiban Kan has new character bento goods section!
Ichiban Kan (Japanese dollar store in San Francisco's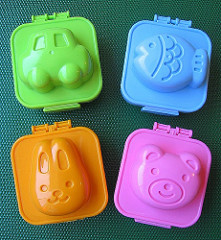 Japantown — info here) now has an all-new children's bento goods section with a substantial selection of character goods, all between US$1 and $1.50. Characters include Hello Kitty, Shinkansen, Cinnamaroll, PokeMon, etc. Products include food cups, chopsticks/case, utensil sets (for only $1.50!), food dividers (baran), bamboo utensils, silicone-coated food cups, kinchaku lunch bags, lunch cloths (use as a napkin or to wrap bento lunches), etc. They also just got in a new shipment of the egg molds on the right (two for $1.50), so pick them up while they're in stock! I led the Japanese moms from Japanese playgroup there yesterday and we had a shopping extravaganza for kid bento stuff…
4. San Francisco: Sanrio store at Stonestown Mall has character bento boxes
I realize I omitted the Sanrio Store at Stonestown Mall from the SF Bay Area Bento Shopping Guide. They have a pretty good selection of good-quality character bento boxes and accessories at normal prices ($10 range). Characters include Hello Kitty, Shinkansen, and Cinnamaroll; products include good-quality collapsible sandwich cases with movable inner divider for $8, child-sized (300-360ml) bento boxes (die-cut style with a bento band and the flap-type with silicone packing seal), utensils and utensil sets that include bamboo chopsticks. I'll be updating the shopping guide shortly.
(Disclaimer: I have no affiliation with Williams Sonoma, Ichiban Kan or Sanrio.)
RELATED POSTS: