Daiso opens in SF Bay Area!
So last week I drove to the Serramonte Mall in Daly City (South San Francisco), and realized that there was a huge new Daiso store in the building where Good Guys used to be! Daiso is basically a huge 100-yen housewares store in Japan that's been expanding internationally — a really cool dollar store (but everything's US$1.50 unless otherwise marked).
My antsy son and I went inside and found much cheap bento goodness: baran (dividers), paper cups, little picks and flags for bento, and cheap bento boxes (including those polka dot boxes). More info here and here - at 15,500 sq. ft., it's currently the largest Daiso in the US. I loaded up on accessories, although some of the photos below also show eBay purchases and gifts from a friend who just came back from a Japan trip. (EDIT: See also my San Francisco Bay Area shopping guide for bento gear, and the new Bento Store Locator with Google Maps to find a store near you.)

I like that you can write your own messages for the little picks on the right (and use regular labels when these run out). I'll use these more at the end of the year when my son starts preschool — he's a little young to appreciate notes now.
(left) Message picks from Daiso (US$1.50). The little flags say things like, "Great job! Congratulations! Do your best! You did it! Thank you!"
(right) customizable message picks: you can either use the pre-printed labels (messages say things like, "Yum! Don't leave any! Today's special. etc." or write your own on the blank labels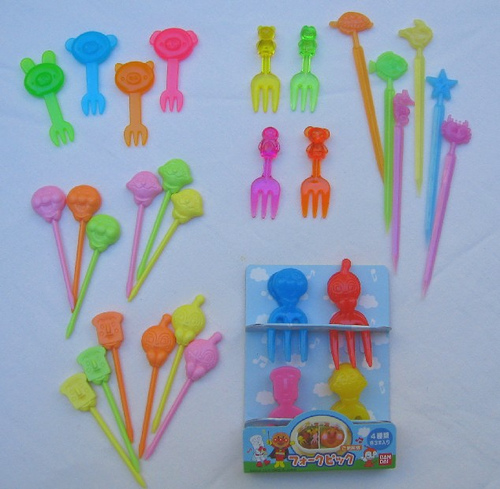 The little Anpanman picks in the lower right corner are the best for toddler hands — the big fork makes it easiest to pick up food.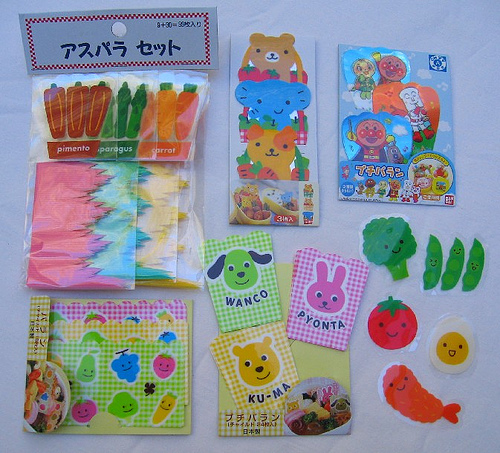 Baran (dividers) for children's lunches. The four on the left and middle are from Daiso ($1.50 each). Thanks to my friend Yumi for the Anpanman baran!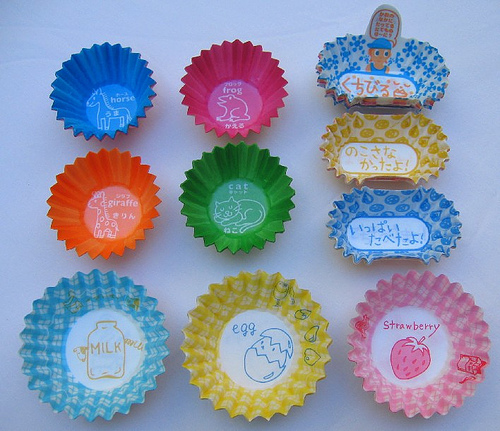 Microwave- and oven-safe food cups, all from Daiso (US$6 total: 4 kinds, $1.50 each). I especially like the English/Japanese animals and the Japanese jokes.
(upper left) English/Japanese food cups, animal version
(upper right) These all have different jokes on them! This one asks, "What part of your face has a building in it?" "Lips!" ("kuchibiru" means lips, but the "biru" part sounds like building in Japanese)
(middle right) Mini cups with encouraging notes on them, like "You didn't leave any!" or "Wow, you ate a lot!"
(bottom) Food-themed cups
Microwaveable plastic-coated food cups (US$3 total at Daiso: $1.50 each for the triangles and oblong cups). I'd never seen the large "corner cups" before.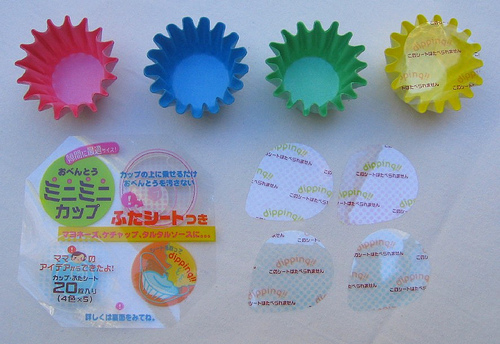 Mini cups for dipping sauce ($1.50 at Daiso, 20 cups total). These are cool — you put your thick dipping sauce in a little cup and cover it with the little plastic film covers. As long as the sauce is viscous (mayo, ketchup, tartar sauce, etc.) and you don't treat the bento roughly in transit, it stays put. Interesting.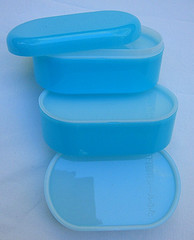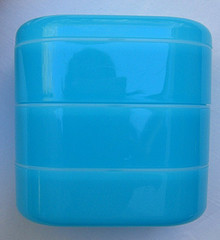 Three-tier bento box ($1.50 at Daiso). It needs a band to keep everything shut, but I like that I can use fewer layers (i.e. for my son) or all three (for myself) as necessary.
READ MORE: